Emeril's Pecan Waffles
With Pecan and Banana Syrup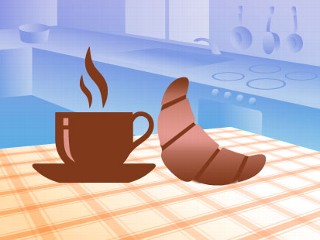 From the kitchen of Emeril Lagasse
|
If you're a waffle lover, this is the recipe for you. The pecan and banana syrup can pour right into other dishes, like vanilla ice cream, pain perdu, or even biscuits and corn bread.
Ingredients
1/4 pound plus 2 tablespoons unsalted butter (1 stick), melted
1 cup pecan pieces
2 medium-sized ripe bananas, peeled and cut crosswise into 1/2 inch thick slices
2 cups pure maple syrup
1 1/2 cups bleached all-purpose flour
1/3 cup ground pecans
1/3 cup sugar
1 tablespoon baking powder
1/4 teaspoon salt
2 large egg yolks
1 teaspoon pure vanilla extract
1 3/4 cup milk
2 large egg whites
Cooking Directions
Heat 2 tablespoons of the butter in a medium-sized sauté pan over medium heat.
Add the pecan pieces and cook, stirring, until golden, 2 to 3 minutes.
Add the banana slices and syrup and bring to a simmer. Set aside and keep warm. Combine the flour, ground pecans, sugar, baking powder and salt in a medium-sized mixing bowl. In a large mixing bowl, beat the egg yolks and vanilla together slightly.
Beat the milk and the 1 stick of melted butter into the egg mixture. Fold the flour mixture into the egg mixture.
Stir until combined, yet still slightly lumpy.
In a small mixing bowl beat the egg whites until stiff peaks form. Gently fold into the batter, leaving little fluffs. If using a Belgian waffle iron, pour 1 cup of the batter onto the grids of a preheated and lightly greased waffle iron. (Regular waffle irons will take only about 1/2 cup.)
Close the lid. Do not open during cooking time.
For the Belgian waffle iron, cook until golden and crisp, 3 to 4 minutes. Smaller waffle irons will take 1 and 1/2 to 2 minutes. Serve waffles hot with the pecan and banana syrup.
Other Recipes That You Might Like