Emeril's Ooey Gooey French Toast
A Chocolatey Breakfast Treat With 2 Syrup Possibilities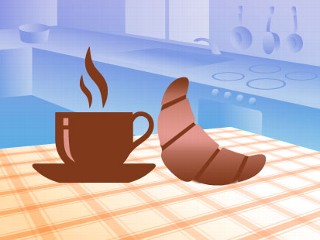 From the kitchen of Emeril Lagasse
|
Star Chef Emeril Lagasse brings some tasty breakfast ideas to "Good Morning America." Here's a recipe that is sure to liven up your mornings -- Ooey-Gooey Chocolate French Toast With Berry Syrup!
Ingredients
3 large eggs
1/4 cup granulated sugar
1 teaspoon pure vanilla extract
Pinch salt
2 tablespoons unsweetened cocoa powder
1 cup half-and-half
8 slices French bread (1/2-inch thick day-oldor other crusty bread)
2 tablespoons vegetable oil
2 tablespoons unsalted butter
Chocolate Sauce, recipe follows
Strawberry Syrup, recipe follows
Confectioners' sugar, for garnish
4 whole fresh strawberries, for garnish (whole)
Chocolate Sauce
3/4 cup half-and-half
1 tablespoon unsalted butter
1/2 pound semisweet or milk chocolate chips
1/4 teaspoon pure vanilla extract
Strawberry Sauce
1 1/2 cups fresh strawberries (or thawed frozen unsweetened strawberries), hulled and diced
1/2 cup sugar
1/3 cup water
2 teaspoons fresh lemon juice
Cooking Directions
French Toast
Preheat the oven to 350°F.
Combine the eggs, granulated sugar, vanilla, and salt in a large bowl and whisk to dissolve the sugar. Sift in the cocoa 1 tablespoon at a time, whisking well to incorporate. Add the half-and-half and whisk to combine.
Place 4 slices of the bread in the bowl with the batter and let sit until well moistened, about 2 minutes, turning once.
In a large non-stick skillet, heat half of the oil and melt half of the butter over medium heat. Transfer the soaked slices of bread to the pan and cook until set, 2 to 3 minutes per side, turning once. Transfer to a large baking sheet and repeat with the remaining oil, butter, and soaked bread. Place the toast in the oven and bake until hot and cooked through, 6 to 8 minutes.
To serve, place two slices of French toast on each of four large plates and drizzle each serving with the chocolate sauce and the strawberry syrup. Garnish each plate with confectioners' sugar and one strawberry. Serve immediately.
Chocolate Sauce
Scald the half-and-half and butter in a small heavy saucepan over medium heat. Remove from the heat.
Place the chocolate and vanilla in a medium, heatproof bowl.
Add the hot half-and-half, let sit for 2 minutes, and then whisk until smooth. Serve slightly warm.
Makes 1 1/2 cups.
Strawberry Sauce
Combine all the ingredients in a small saucepan and bring to a boil.
Lower the heat and simmer until the strawberries are soft and the syrup is thickened, 8 to 10 minutes.
Remove from the heat and let cool to room temperature before serving. (If thinner syrup is desired, strain the hot syrup through a fine mesh strainer.)
Makes 1 1/4 cups.
Recipes courtesy of Emeril Lagasse, Copyright 2005.
Other Recipes That You Might Like