Tyler Florence's Banana-Pecan Pancakes with Maple-Honey Butter.
Add Extra Decadence to Your Mornings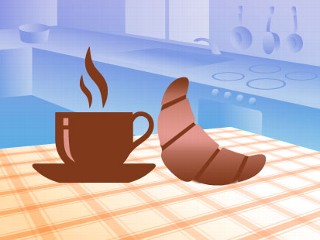 From the kitchen of Tyler Florence
|
Chef Tyler Florence brought his passion for uncomplicated recipes and bright colors to Good Morning America.
Ingredients
2 cups buttermilk
3 eggs
1 teaspoon pure vanilla extract
2 cups all-purpose flour
1 1/2 teaspoons baking powder
1 teaspoon baking soda
1 pinch salt
4 tablespoons sugar
1/2 cup pecans, toasted and finely ground, not chopped
1/2 stick unsalted butter, melted
3 bananas, peeled and sliced in 1/4-inch circles
Maple Butter, recipe follows
Confectioners' sugar, to garnish
Candied Pecans, to garnish
Cooking Directions
Preheat the oven to 200 degrees F.
In a large mixing bowl whisk the buttermilk, eggs, and vanilla together so they are well combined. In a separate bowl mix the flour, baking powder, soda, salt, and sugar. Combine the wet ingredients with the dry and stir with a spoon to get rid of the lumps. Fold in the pecans, most of the melted butter and whisk until batter is smooth.
Heat a griddle or skillet over medium low heat and swirl around a little melted butter to keep the pancakes from sticking. Using a ladle pour the batter into the pan (see Cook's note*).
Cook the pancakes on one side until they are set and then lightly press the bananas into the batter. When small bubbles appear on the uncooked surface, flip the pancakes and cook until golden on both sides, about 8 minutes.
Transfer pancakes to a warming plate in the oven while you make the rest.
To serve, slice the maple-honey butter, layer it between the stack of pancakes and place in the oven to melt for 1 1/2 minutes. Sprinkle with confectioner's sugar and candied pecans.
*Cook's note: The trick to perfect round pancakes is pouring all the batter in the same spot and letting it roll out to a complete circle.
Maple Butter
In a mixing bowl, using a spatula mash the butter with the maple syrup and honey until well blended.
Roll it up in the paper, like a tube and twist the ends.
Chill in the refrigerator for 30 minutes.
Other Recipes That You Might Like