Frosted Banana Pancakes
A Childhood Cereal Takes a New Seat at the Breakfast Table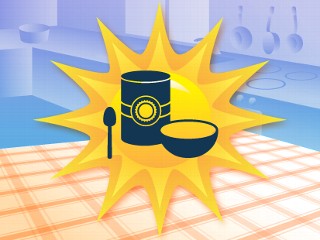 From the kitchen of David Hoffman
|
"The Breakfast Cereal Gourmet," written by David Hoffman, who also wrote "The Easy-Bake Oven Gourmet," is taking cereal recipes far beyond Rice Krispie Treats and Chex Mix. He creates meals like Frosted Banana Pancakes with Frosted Flakes and Tomato Gratin with Grape Nut topping.
It makes sense. Americans consume huge amounts of cereal.
The average person eats about 10 pounds or 160 bowls of it a year, and breakfast cereal ranks third in the list of grocery-store items bought by Americans -- after soda and milk. In fact, most of the vitamins and minerals children get are from cereal.
Tony the Tiger made his debut in 1952 as part of a plan for a series of animal illustrations appearing on boxes of Sugar Frosted Flakes. Other animals were to include Katie the Kangaroo, Elmo the Elephant, and Newt the Gnu. Supposedly Kellogg's goal was to have a character for every letter of the alphabet, but only Tony and Katie made it onto the box.
Thanks to a catchy slogan ("I'm here to proudly state, Sugar Frosted Flakes are gr-r-reat!"), Tony grabbed the spotlight, and Katie, along with the others, quickly faded into advertising history.
Ingredients
1 cup all-purpose flour
1 cup ground Frosted Flakes (about 3 cups uncrushed)
1 teaspoon baking powder
1/2 teaspoon baking soda
1/4 teaspoon salt
2 eggs, lightly beaten
1 cupripe bananas, mashed (about 2 large)
1 cup buttermilk
1/2 teaspoon vanilla extract
vegetable oil
sliced bananas (optional, for serving)
powdered sugar (optional, for serving)
maple syrup (optional, for serving)
Cooking Directions
In a large bowl, mix the flour, ground cereal, baking powder, baking soda and salt.
In another bowl, beat the eggs with the bananas, buttermilk and vanilla. Add to the flour mixture and stir to blend.
For each pancake, pour about a one-third cup batter onto a hot oiled griddle set over medium-high heat.
Cook until the top is covered with bubbles and the edges look dry. Turn and cook on the other side.
Serve topped with sliced bananas and sprinkled with powdered sugar or with maple syrup.
Other Recipes That You Might Like