Blueberry Sour Cream Coffee Cake
Emeril Lagasse's Breakfast in Bed Winner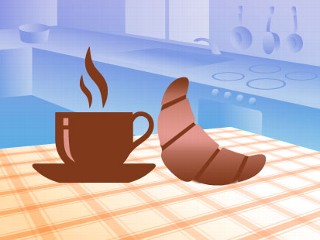 From the kitchen of Karen Pickus and Emeril Lagasse
|
Emeril Lagasse received and read thousands of incredible letters from Good Morning America viewers who nominated their loved ones for his Breakfast in Bed contest. They each told a story about their loved one so that would get a gourmet breakfast personally prepared and delivered by the great chef.
When Emeril read the letter sent by Wendi Kennedy, about her husband firefighter Lieutenant Thomas Kennedy, it really moved him. And when Emeril met Thomas outside of the Park Avenue Fire Station in Worcester, Mass., it was a real surprise.
Serve someone you love the same dish Emeril prepared for Thomas' well-deserved breakfast in bed: Blueberry Sour Cream Coffee Cake.
Ingredients
1 ten inch Bundt pan
1 1/2 sticks unsalted butter, softened (plus 2 tablespoons for buttering the pan)
1/4 cup light brown sugar
2 teaspoons cinnamon
1/4 cup sugar
2 1/4 cups fresh blueberries (if possible, or frozen), 3 quarters of a cup for each layer
3 cups unbleached white flour, plus 1 tablespoon to toss with fresh blueberries
1 1/2 cups sugar
1 1/2 teaspoons baking powder
1 1/2 teaspoons baking soda a half teaspoon salt
1 teaspoon pure vanilla extract
3 large eggs
2 cups sour cream
Cooking Directions
Preheat oven to 350*F. Set oven rack 1 third up from the bottom of the oven. Butter and flour bundt pan.
In a small bowl combine quarter cup sugar, light brown sugar and cinnamon. In a separate medium bowl toss fresh blueberries in a tablespoon of flour. In a large bowl sift all remaining dry ingredients.
In a large mixing bowl, with an electric mixer on medium speed, cream butter and sugar until light and fluffy.
Add vanilla. Then add eggs, one at a time, until incorporated. Scrape down sides.
Add flour mixture, alternating with sour cream, mixing until just incorporated. Scrape down sides in between additions.
Spread 1/3 of the batter carefully on bottom of bundt pan, then add 1/3 of the blueberries and sprinkle with 1/3 of the cinnamon sugar mixture. Repeat 2 times, finishing with the blueberries and the cinnamon sugar mixture.
Bake for 1 hour until cake is golden brown and set, and sides begin to pull away from the pan. Let cool completely and then unmold and turn right side up. Serves ten to twelve.
Recipe developed by Karen Pickus, Chef Good Morning America for Emeril Lagasse's Breakfast in Bed, February 2001.
Other Recipes That You Might Like