Shrimp and Artichoke Omelet with Sauce Piquant
Emeril Lagasse's Kicked Up Eggs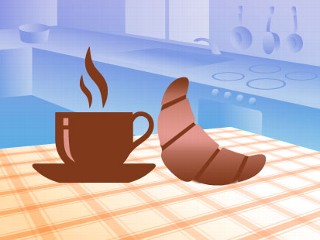 From the kitchen of Emeril Lagasse
|
Sunny side-up, scrambled, over-easy ? not for Emeril Lagasse. He likes his eggs kicked up a notch. Check out his Shrimp and Artichoke Omelet with Sauce Piquant.
Ingredients
3 large eggs
1 teaspoon salt
1/2 teaspoon white pepper
2 tablespoons butter
1/4 cup sautéed shrimp
1/4 artichoke hearts
1/2 cup sauce piquant
Sauce Piquant
1 tablespoon olive oil
1 tablespoon onion, chopped
1 tablespoon green onion, chopped
1 tablespoon celery, chopped
1 tablespoon green bell peppers, chopped
1 1/2 teaspoons jalapeno, minced, seeded
1 1/2 teaspoons garlic, minced
1 1/2 teaspoons fresh basil, chopped
1/2 teaspoon fresh thyme, chopped
1/2 teaspoon fresh oregano, chopped
1 bay leaf
1/2 cup plum tomatoes, peeled, seeded and chopped
1/2 cup shrimp stock
1/4 teaspoon salt
Pinch cayenne pepper
Pinch fresh cracked black pepper
1 tablespoon butter, cold
Cooking Directions
Heat an 8-inch, non-stick sauté pan over medium-high heat. In a mixing bowl, combine the eggs, 1/2 teaspoon salt and 1/4 teaspoon pepper. Whisk briskly to incorporate well all the ingredients. Add the butter to the sauté pan and quickly pour the eggs into the pan.
Using a wooden spoon, swirl the pan and scrape the eggs with the spoon simultaneously. Continue to scrape and swirl the eggs until they start to solidify, but are still moist on the surface. Lay the shrimp and artichoke hearts across the middle of the omelet seasoned with the remaining salt and pepper.
Using a rubber spatula, fold the farthest edge of the omelet toward the center covering the filling. Shake the pan till the edge closest to you is slightly draped over the ridge of the pan. Hold the handle of the pan with an underhanded grip (like you would hold a violin), and invert the omelet onto a serving platter or plate. Pour the sauce piquant overtop the omelet and serve immediately.
Sauce Piquant
In a sauté pans set over a medium-high heat, add the olive oil and begin to sauté the onions, green onions, celery, green pepper and jalapeno. Sauté for 3 minutes and then add the garlic.
Sweat for 1 minute and add the basil, thyme, oregano and bay leaf. Continue to cook for 1 minute and add the tomatoes, stock, salt, cayenne and fresh cracked black pepper. Bring the sauce to a boil and reduce to a simmer, let cook for 5 minutes longer, and swirl the cold butter into the sauce. Season again if necessary. Remove the bay leaf from the sauce before serving.
Recipe courtesy of Emeril Lagasse © 2001
Other Recipes That You Might Like