Dr. Dean Ornish's Pancakes
Light and Healthy Pancakes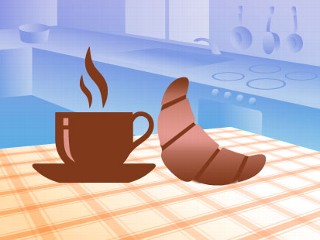 From the kitchen of Dr. Dean Ornish
|
Whole wheat flour gives these pancakes a wholesome nutty taste, but it doesn't weigh them down; they are as light as can be.
Serve them on a weekend morning with a shower of fresh fruit or a light brushing of maples syrup. The recipe makes 18 pancakes.
Ingredients
1/2 cup rolled oats (quick-cooking, not instant)
2 1/2 cups nonfat milk
1 cup unbleached all-purpose flour
3/4 cup whole wheat flour
2 tablespoons sugar
1 tablespoon baking powder
1/2 teaspoon salt
1/2 teaspoon cinnamon
3 egg whites
1 teaspoon vanilla extract
Cooking Directions
Preheat an electric griddle or a nonstick frying pan or a griddle over moderate heat.
In a medium bowl, combine oats and milk. Stir to blend and set aside.
In a large bowl, combine unbleached flour, whole wheat flour, sugar, baking powder, salt and cinnamon. Stir to blend well.
Add egg whites and vanilla to oat mixture; stir to combine. Add wet ingredients to flour mixture and stir just until ingredients are moistened. Do not overmix.
Make pancakes, using 1/4 cup batter for each pancake. Turn when bubbles begin to pop on the surface and the underside is browned; continue cooking until the second side is brown. Serve hot.
If you prefer, you can add blueberries to the batter before you put the batter on the grill as we did on Good Morning America for this recipe.
c. Everyday Cooking with Dr. Dean Ornish, 2000
Other Recipes That You Might Like