Emeril's 'Kicked Up' Frittata
A Hearty Egg Pie to Jumpstart the Day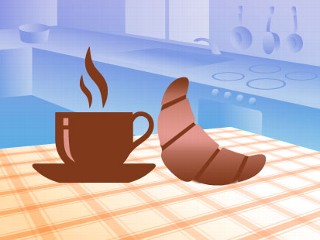 From the kitchen of Emeril Lagasse
|
Star Chef Emeril Lagasse brings two tasty breakfast ideas to "Good Morning America." Here's a recipe that is sure to liven up your mornings -- Emeril's "Kicked Up" Frittata.
Ingredients
1 medium russet potato, peeled and cut into 1/4-inch cubes (about 1 cup)
6 ounces hot sausage, removed from the casings and crumbled
3/4 cup yellow onions, chopped
1/2 cup green bell peppers, chopped
1 teaspoon garlic, minced
1 tablespoon fresh parsley,chopped
6 large eggs
2 tablespoons heavy cream
1/2 teaspoon salt
1/4 teaspoon black pepper (freshly ground)
2 tablespoons olive oil
3/4 cup Fontina cheese, grated (or Asiago or Monterey Jack cheese)
Cooking Directions
Put the potatoes in a small saucepan and add enough salted water to cover by 1-inch. Bring to a boil and cook until tender, 7 to 8 minutes. Drain in a colander and set aside.
Preheat the broiler and place the top rack 4 to 5 inches from the broiler element.
In a large non-stick, broiler proof skillet, cook the sausage over medium-high heat until browned and the fat is rendered, 4 to 5 minutes. Remove with a slotted spoon. To the fat in the pan, add the onions and bell peppers and cook, stirring, until soft, about 3 minutes.
Add the garlic and cook until fragrant, about 30 seconds. Stir in the cooked potato cubes and parsley and remove from the heat.
Whisk together the eggs, cream, salt, and pepper. Add 1/2 cup cheese, whisk, and pour over the sausage-vegetable mixture.
Place the pan over medium heat and cook, lifting with a rubber spatula to let the eggs flow underneath, until the edges are set but the middle still is loose, about 3 minutes.
Place under the broiler until the eggs are slightly puffed and just golden, about 2 minutes. Sprinkle the remaining 1/4 cup cheese over the top and return to the oven until the cheese is melted, about 1 minute.
Remove from the oven. Carefully place a large serving plate over the pan and invert to turn out the frittata onto the plate. Let stand 1 minute, then slice into 8 wedges and serve.
Recipes courtesy of Emeril Lagasse, Copyright 2005.
Other Recipes That You Might Like