Bayou Bend Brunch Casserole
From the Winner of Emeril's Pie Contest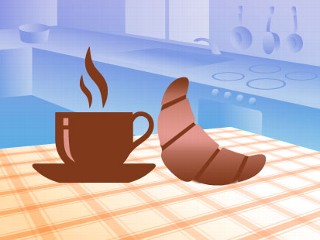 From the kitchen of Ann Woodward
|
The winner of Good Morning America's Pie of Emeril's Eye Contest shared a very special breakfast with the master chef on the morning he stopped by to give her the good news.
Since then our viewers have been asking us to get the recipe from Beth Ann Woodward. Here it is: The Bayou Bend Brunch Casserole.
Ingredients
1/2 large loaf day old french bread, torn into small pieces
3 tbs. butter, melted
1 lb. Monterey Jack cheese, shredded
1/4 lb. Genoa salami, julienned (Beth uses more, usually 1/3 lb.)
10 eggs
1 1/2 cups milk (whole)
1/3 cup white wine
3 large green onions, minced
2 tsp Dijon mustard
1/8 tsp. coarse ground black pepper (I use more, usually 1/4 )
1/8 tsp. red pepper flakes (Beth uses more, 1/4 tsp. )
1 cup sour cream
1/2 cup Parmesan cheese, grated (Beth uses fresh )
Cooking Directions
In a well greased 9x13-inch casserole dish, spread bread pieces over bottom and drizzle with butter. Sprinkle with Montery jack cheese and salami pieces.
2. Beat together eggs,milk,wine,green onions,mustard and black and red pepper until mixture is frothy. Pour mixture over bread mixture. Cover casserole with foil and refrigerate overnight.
3. Remove from refrigerator 30 minutes before baking. Bake covered, at 325 degrees for 1 hour.
4. Uncover, spread with sour cream and sprinkle with parmesan cheese. Bake uncovered an additional 10 minutes, until lightly browned.
The Houston Junior Forum cookbook, Buffet on the Bayou © 2000 (To order the cookbook, call 713-526-4797)
Other Recipes That You Might Like