Egg Nog French Toast
With Apple Cranberry Compote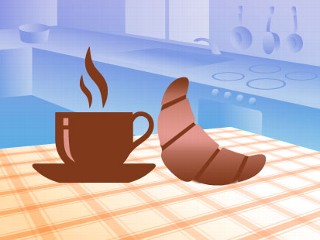 From the kitchen of John Castro
|
Whip up Egg Nog French Toast with Apple Cranberry Compote for breakfast before Christmas day and you might end up getting more gifts than you expected. Your friends and family will devour this special holiday treat.
Ingredients
Apple Cranberry Compote
4 cups nonalcoholic unsweetened cider
1 cup sugar
2 cinnamon sticks (or 1/2 teaspoon cinnamon)
1 vanilla bean, split lengthwise (or 2 teaspoons vanilla)
1/4 cup orange zest
4 pounds small tart cooking apples, diced (Pippins, Winesap or Granny Smith)
1 cup dried cranberries, roughly chopped
French Toast Ingredients
16 slices Bias cut French bread (cut on an angle)
1 quart egg nog
1/2 cup Bourbon
Pinch cinnamon nutmeg and cardamom
Butter, for cooking
Cooking Directions
Cranberry Compote
Place cider, sugar, cinnamon, vanilla and zest into a 6 quart pan and bring to a low simmer.
Add apples and cranberries. Cook for 6 minutes.
Strain and reserve both the liquid and the apple cranberry mixture, discarding the cinnamon sticks and vanilla bean if you used the stick and bean.
Place the liquid back into the pan and reduce by half - 30 to 40 minutes.
Cool and add the apples and cranberries back into this mixture and reserve.
*Note: This can be done 2 days ahead and chilled.
Stuffing and Cooking Toast
In a medium bowl, combine egg nog, Bourbon and spices and mix well.
Dip the slices of French bread into the seasoned eggnog and fill with 1 to 2 tablespoons of apple cranberry compote. Press firmly together and reserve.
Place 2 to 3 tablespoons of softened butter in a pan over stove and allow to melt and brown slightly. Place three or four sandwiches in the pan and cook until desired color is achieved (about 3 to 4 minutes on each side over medium heat). Note: Serve immediately or keep warm in low oven. If desired, you may garnish with powdered sugar or whipped cream.
Recipe copyright, © 2000 courtesy of John Castro, Executive Chef of Sullivan University Cooking School Restaurant called Whitney's
Other Recipes That You Might Like