Emeril Lagasse's Ham and Cheese Omelet
Emeril Lagasse's 'Breakfast in Bed' Contest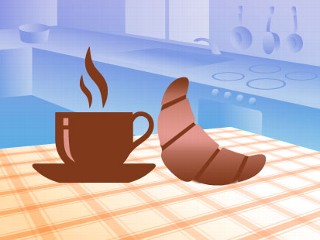 From the kitchen of Emeril Lagasse
|
When her best friend lost her long battle with cancer, Judy Byrwa did something that many people couldn't even fathom. She dropped her entire life to keep a promise she made years earlier.
Byrwa, who had been working for a national political committee in Washington, D.C., dropped everything when her friend Sally Rich died. She moved to Michigan so she could raise her friend's twin girls in their hometown.
Everyone who knew Byrwa was moved by her decision to change her life when Rich died 12 years ago. Suzanne Kelley, one of Byrwa's closest friends from Washington, immediately thought of Byrwa when she heard about Good Morning America's "Breakfast in Bed" contest with Emeril Lagasse.
Lagasse completely surprised Byrwa when he showed up at her Dearborn, Mich., home Friday morning with the twins, Karma Garavaglia and Karina Knighten.
Lagasse served Byrwa, her friends and the twins with a very special breakfast.
If you want to make your special someone a breakfast in bed, just like Lagasse, see the recipes he used for Byrwa's amazing breakfast. You'll find his recipe for Ham and Cheese Omelets below.
Ingredients
4 large eggs
1/8 teaspoon salt
Pinch freshly ground black pepper
1/2 cup cooked ham, finely diced
1 tablespoon unsalted butter
1/2 cup mild cheddar cheese, grated
Cooking Directions
In a medium bowl, beat the eggs, salt, and pepper until well combined. Add the ham and beat to combine.
In a 10-inch skillet, melt the butter over medium heat, swirling to coat the bottom of the pan. Pour the egg mixture into the skillet and using a rubber spatula, stir in a circular motion, pulling the uncooked eggs toward the center. Let the eggs cook until almost set, 10 to 20 seconds. Sprinkle the cheese over the top and using a rubber spatula, fold the omelet in half.
Turn out onto a plate and serve immediately with potato hash.
Other Recipes That You Might Like