Emeril's Mile High Blueberry Muffins
Emeril Lagasse's 'Breakfast in Bed' Contest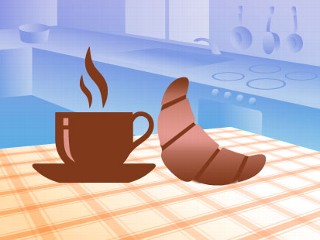 From the kitchen of Emeril Lagasse
|
When her best friend lost her long battle with cancer, Judy Byrwa did something that many people couldn't even fathom. She dropped her entire life to keep a promise she made years earlier.
Byrwa, who had been working for a national political committee in Washington, D.C., dropped everything when her friend Sally Rich died. She moved to Michigan so she could raise her friend's twin girls in their hometown.
Everyone who knew Byrwa was moved by her decision to change her life when Rich died 12 years ago. Suzanne Kelley, one of Byrwa's closest friends from Washington, immediately thought of Byrwa when she heard about Good Morning America's "Breakfast in Bed" contest with Emeril Lagasse.
Lagasse completely surprised Byrwa when he showed up at her Dearborn, Mich., home Friday morning with the twins, Karma Garavaglia and Karina Knighten.
Lagasse served Byrwa, her friends and the twins with a very special breakfast.
If you want to make your special someone a breakfast in bed, just like Lagasse, see the recipes he used for Byrwa's amazing breakfast. You'll find his recipe for Mile High Blueberry Muffins below.
Ingredients
2 cups all-purpose flour
1/2 cup sugar
1 1/2 teaspoons baking powder
1/2 teaspoon baking soda
1/2 teaspoon salt
2/3 cup plain yogurt
1/2 cup whole milk
2 large eggs
2 tablespoons unsalted butte, melted
2 teaspoons grated lemon zest
1 cup fresh blueberries (or thawed frozen)
Cooking Directions
Preheat the oven to 350 degrees F. Line a 12-muffin tin with 12 paper muffin-tin liners and set aside.
Sift the flour, sugar, baking powder, baking soda, and salt into a medium mixing bowl.
In a large mixing bowl, whisk together the yogurt, milk, eggs, butter and lemon zest. Add the dry ingredients to the yogurt mixture and whisk just until combined, being careful not to overmix. Using a rubber spatula, gently fold the blueberries into the batter, again being careful not to overmix. Divide the batter evenly among the muffin cups and bake until puffed up and golden brown, 20 to 22 minutes.
Remove the muffins from the oven and let cool in the tin for 5 minutes before turning out onto a wire rack. Serve warm.
Yield: 12 muffins
Recipe courtesy of Chef Emeril Lagasse, copyright 2004
Other Recipes That You Might Like