Emeril's Spicy Breakfast Bake
South of the Border Breakfast Bake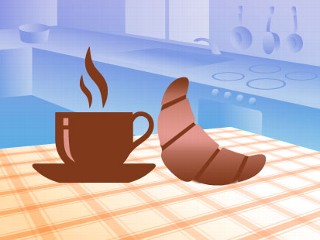 From the kitchen of Emeril Lagasse
|
If you are looking for a hearty breakfast with a spicy Mexican kick, try Emeril's Spicy South of the Border Breakfast Bake.
Note: Recipe must be refrigerated at least six hours before baking. Makes about 10 servings
Ingredients
6 Poblano chili peppers (about 1 1/2 pounds)
1 teaspoon unsalted butter
1 1/2 pounds Mexican chorizo (or other hot sausage), removed from casings and crumbled
1 cup yellow onions, chopped
1/2 cup red bell peppers, chopped
1 tablespoon plus 1 teaspoon garlic, minced
1 tablespoon plus teaspoon chili powder
5 teaspoons vegetable oil, or more as needed
5 flour tortillas
10 large eggs
3 cups half-and-half
1/2 teaspoon Emeril's Hot Red Pepper Sauce (or other hot sauce)
1/2 teaspoon salt
1/2 teaspoon freshly ground black pepper
1/2 cup green onions, green tops only, chopped
1/4 cup fresh cilantro, chopped
1 1/2 cups pepper jack cheese, grated
1 1/2 cups medium cheddar cheese, grated
Salsa, optional
Sour Cream, for garnish
Cooking Directions
Preheat the oven to 350 F.
Roast the peppers by placing them on an open gas flame, turning them frequently with tongs until all sides are charred black, about 7 to 10 minutes. (Alternately, the peppers can be roasted under a broiler, or on top of a gas or charcoal grill.) Place the blackened peppers in bowl and cover with plastic wrap. Let rest until cool enough to handle, about 15 minutes. Peel the peppers, split in half lengthwise, and remove the seeds and the stems.
Grease a 9 x 13-inch baking dish with the 1 teaspoon of butter. Spread the chilies in a flat layer across the bottom of the dish.
In a large skillet, cook the sausage over medium-high heat, stirring to break up the meat, until browned. Add the onions and bell peppers, and cook, stirring, for 4 minutes. Add the garlic and chili powder, and cook, stirring, for 1 minute. Remove from the heat.
In a separate skillet, heat 1 teaspoon of the vegetable oil over medium-high heat. Add one tortilla and cook until softened, about 30 seconds per side. Remove from the pan and cut into quarters. Repeat with the remaining oil and tortillas.
Combine the eggs, half-and-half, hot sauce, salt, and black pepper in a large bowl. Whisk to combine. Combine the green onions, cilantro, and cheeses in a medium bowl, and mix well. Spoon 1/3 of the sausage mixture over the chilies in the dish, top with 1/3 of the tortilla quarters, and 1/3 of the cheese mixture. Repeat layering, ending with a cheese layer. Pour the egg mixture over the ingredients. Let rest, covered, in the refrigerator for at least 6 hours, or overnight.
Bake until bubbly and golden brown, and a knife inserted into the custard comes out clean, about 1 hour and 10 minutes. Remove from the oven and let rest 10 minutes before serving. Serve with salsa and sour cream, as desired.
Recipe courtesy of Chef Emeril Lagasse
Other Recipes That You Might Like