Emeril's Giant Apple-Pecan Pancake
Emeril Lagasse's Breakfast Treat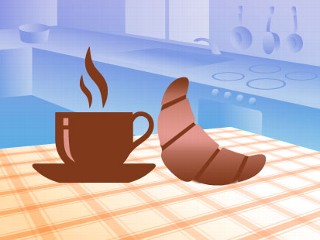 From the kitchen of Emeril Lagasse
|
If you are looking for a sweet end to a hearty breakfast, try making a stack of Emeril Lagasse's Giant Apple-Pecan Pancakes.
Ingredients
3 tablespoons unsalted butter
2 large apples, peeled, cored, and thinly sliced
1/3 cup dark brown sugar, firmly packed
1/2 teaspoon ground cinnamon
Pinch grated nutmeg
1/2 cup pecans, roughly chopped
4 large eggs, beaten
1 cup whole milk
1 cup all purpose flour
Powdered sugar, garnish
Maple syrup, accompaniment
Cooking Directions
In a heavy, ovenproof 12-inch skillet, melt 2 tablespoons of the butter over medium-high heat. Add the apples, sugar, cinnamon and nutmeg, and cook, stirring, until the apples are soft and just golden, about 7 minutes. Add the pecans and cook, stirring, until the apples are caramelized, 2 to 3 minutes. Add the remaining tablespoon butter and stir to melt. Remove from the heat.
In a large bowl, combine the eggs, milk, and flour, and whisk just until blended, being careful not to overmix. Pour the batter over the apples. Bake until golden and puffed, 18 to 20 minutes.
Remove from the oven and sprinkle with powdered sugar. Drizzle with maple syrup and serve from the pan.
Recipe courtesy of Chef Emeril Lagasse
Other Recipes That You Might Like