Wolfgang Puck's Pistachio Crusted Vanilla French Toast
An Elegant Brunch Treat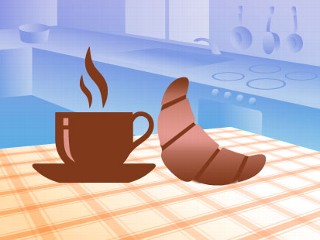 From the kitchen of Wolfgang Puck
|
Chef Wolfgang Puck says that a crunchy coating of finely ground pistachios transforms his vanilla-scented French toast into something truly extraordinary.
Ingredients
4 large eggs, beaten
2 cups milk
1 tablespoon sugar
1 teaspoon vanilla extract
1/8 teaspoon freshly ground nutmeg
1/4 teaspoon salt
2 cups shelled pistachios, finely ground in a food processor fitted with the steel blade, or 2 cups of slivered almonds
8 slices white bread, 1-inch thick (or brioche, or egg bread such as challah)
2 to 3 tablespoons unsalted butter
Powdered sugar for dusting
Cooking Directions
Preheat the oven to 350 degrees F. Butter 1 or 2 baking dishes, large enough to accommodate the bread in one layer. In a large, wide bowl, whisk together the eggs, milk, sugar, vanilla, nutmeg, and salt.
Heat a large, heavy, nonstick skillet over medium-high heat. One by one, dip the bread into the egg mixture, turning it and making sure it is completely saturated. Carefully dip the slices into the ground pistachios or almonds, coating them evenly on both sides.
Add the butter to the hot pan and swirl the pan. When the butter foams, carefully transfer as many slices of bread as will fit in the pan without crowding. Brown on each side, about 2 minutes per side, and transfer to the baking dish. When all of the slices have been browned, place the baking dish in the oven and bake 15 minutes.
To serve, cut each slice diagonally in half and arrange the triangles on heated serving plates. Spoon powdered sugar into a fine-meshed sieve and tap the sieve over each serving to dust it attractively with sugar. Serve hot, with jam, maple syrup, brandied dried apricot jam or fresh berry compote.
Other Recipes That You Might Like