Emeril's Ham and Cheese Quiche with Hash Brown Crust
Emeril Lagasse's Breakfast in Bed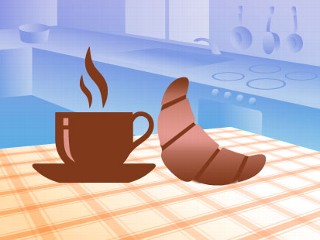 From the kitchen of Emeril Lagasse
|
Star Chef Emeril Lagasse kicked off his annual 'Breakfast in Bed' Contest on "Good Morning America" by preparing some delicious breakfast dishes. His recipes are sure to open eyes and delight tummies at any breakfast table.
Ingredients
3 cups Idaho potatoes, peeled and grated, squeezed dry in towels or frozen hash brown potatoes, thawed and squeezed dry in towels
1 tablespoon butter, melted
1 teaspoon Emeril's Original Essence
1/2 plus 1/8 teaspoon teaspoon salt
1/4 cup Parmesan cheese (finely grated)
4 large eggs
1 1/2 cups half-and-half
1/4 teaspoon freshly ground black pepper
1 cup Gruyere or Swiss cheese (grated)
4 ounces baked ham, chopped
Cooking Directions
Preheat the oven to 425° F. Lightly grease a 9-inch round glass pie pan and set aside.
In a medium bowl, combine the potatoes, butter, Essence, and 1/8 teaspoon of the salt and toss to combine. Add the Parmesan and toss to combine. Press the potato mixture into the prepared pan, spreading with your fingertips to evenly cover the bottom and up the sides. Bake until the potatoes are set and golden brown, 22 to 25 minutes.
Remove from the oven and let cool on a wire rack.
Reduce the oven temperature to 350° F.
In a medium bowl, beat the eggs. Add the half-and-half, remaining 1/2 teaspoon salt, and pepper and whisk to combine. Add the Gruyere and ham, stir, and pour into the prepared potato crust. Bake until the center of the custard is set but still slightly soft, puffed, and golden brown, about 30 minutes.
Transfer to a wire rack and let cool for 20 minutes before serving. Slice and serve.
Recipes courtesy of Emeril Lagasse, Copyright 2005.
Other Recipes That You Might Like