Wolfgang Puck's Dessert Pancakes
Wolfgang Puck's Post-Oscar Brunch Recipe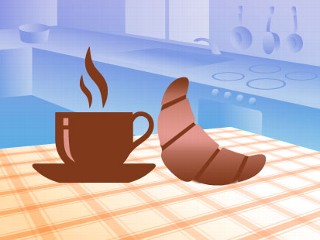 From the kitchen of Wolfgang Puck
|
After supervising the menu for the Governor's Ball following the Academy Awards, Chef Wolfgang Puck turned around to prepare a post-Oscars brunch for "Good Morning America." Check out what some celebrities will be noshing on the morning after the big night.
Ingredients
1 1/2 cups all-purpose flour
2 teaspoons baking powder
1 teaspoon baking soda
1/4 cup sugar
1/8 teaspoon salt
2 eggs
1 1/2 cups buttermilk (or 1 cup buttermilk and 1/2 cup milk)
1/4 cup unsalted butter, melted
1 teaspoon vanilla extract
1 cup Brandied Dried Apricot Jam (recipe below)
1/2 cup whipped cream (or crème fraiche)
Cooking Directions
Heat an electric griddle or stovetop griddle or heavy pan over medium-high heat. Sift together the flour, baking powder, baking soda, sugar and salt into a medium bowl.
In another medium bowl, beat the eggs and whisk in the buttermilk (or buttermilk and milk), the melted butter and the vanilla extract. Quickly whisk in the flour mixture and stir only until it is combined.
Ladle the batter onto the griddle by tablespoons for small, two-inch pancakes. Cook until bubbles break through and turn over. Cook another 30 seconds to a minute, until nicely browned on the other side and transfer to a plate.
Serve the pancakes hot with dried apricot jam and whipped cream or crème fraiche.
Brandied Dried Apricot Jam
Put 1 cup of cut, dried apricots in a mixing bowl, bring 1 1/2 cups water to a boil, and pour over the apricots.
Add 1/4 cup apricot brandy and 1/4 cup dried white wine, cover with plastic wrap, and leave in the refrigerator to soak for at least 30 minutes to one hour, or for as long as overnight.
Transfer the apricots and their soaking liquid to a nonreactive saucepan. Add 1 cup sugar and 1 cinnamon stick and bring to a boil over high heat.
Reduce the heat and simmer, stirring occasionally, until the mixture has a thick, jam-like consistency, about 45 minutes to an hour. Remove from the heat and allow to cool.
Transfer the mixture to a bowl or storage container, remove and discard the cinnamon stick, cover and refrigerate.
Recipe courtesy of "Wolfgang Puck Makes It Easy: Delicious Recipes for Your Home Kitchen," by Wolfgang Puck. Rutledge Hill Press, copyright 2004.
Other Recipes That You Might Like