Potato Cakes with Ham and Cheesy Scrambled Eggs
Emeril Lagasse's Breakfast in Bed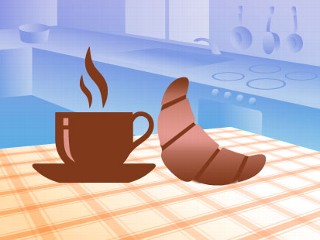 From the kitchen of Emeril Lagasse
|
Chef Emeril Lagasse treated the winner of his "Breakfast in Bed" contest to a delicious Mother's Day meal. This year, "Good Morning America" remembered a mother, Annie Lyznicki, and saluted a father -- Dan Lyznicki, who has become both mother and father after his wife's untimely death.
Here is his recipe for Potato Cakes with Ham and Cheesy Scrambled Eggs.
Ingredients
2 Idaho potatoes (12-ounces each)
6 tablespoons vegetable oil
1/2 teaspoon salt
1/2 teaspoon freshly ground black pepper
9 large eggs
2 tablespoons whole milk
1/2 teaspoon Emeril's Original Essence or Creole Seasoning
1/4 teaspoon salt
1/8 teaspoon freshly ground black pepper
1 1/2 tablespoons unsalted butter
1/2 cup cheddar cheese, grated
8 ounces good-quality smoked ham, thinly sliced
fresh parsley, chopped, for garnish
Cooking Directions
Preheat the oven to 375 F.
Peel the potatoes and using a box grater, shred into matchstick sized pieces. Squeeze in a clean kitchen cloth in batches to remove any excess liquid. Place the potatoes in a large bowl, add 2 tablespoons of the clarified butter, the salt and the pepper and toss to coat evenly.
Heat 2 tablespoons of the clarified butter in an 8-inch non-stick skillet over medium-high heat until hot but not smoking. Add half of the potatoes, pressing flat with the back of a spatula to flatten into a cake, and cook until set and starting to turn golden brown, 6 minutes on the first side and 3 to 4 minutes on the second side. Place on a baking sheet and repeat with the remaining ingredients. Bake the potato cakes until cooked through and crisp, about 10 minutes.
Meanwhile, whisk the eggs, milk, Essence, salt, and pepper in a large bowl until frothy.
Two minutes before the potato cakes come out of the oven, melt the butter in a large skillet over medium-high heat. Add the eggs, and cook, stirring with a wooden spoon, until the eggs are soft and creamy and just set in large curds, about 1-1/2 minutes. Remove from the heat and sprinkle the cheese over the eggs. Set aside for the cheese to melt while assembling the plates.
To serve, slice each potato cake into fourths and place two pieces on each of four plates. Drape the ham over the potato slices and top with the scrambled eggs. Garnish each plate with parsley and serve immediately.
Recipe courtesy of Emeril Lagasse, Copyright 2005.
Other Recipes That You Might Like