Emeril's Peach Muffins
Emeril Lagasse's Breakfast in Bed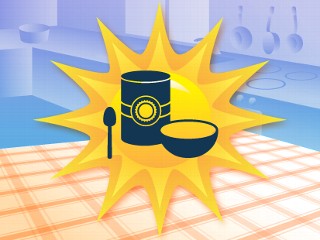 From the kitchen of Emeril Lagasse
|
Chef Emeril Lagasse treated the winner of his "Breakfast in Bed" contest to a delicious Mother's Day meal. This year, "Good Morning America" remembered a mother, Annie Lyznicki, and saluted a father -- Dan Lyznicki, who has become both mother and father after his wife's untimely death.
Here is Emeril's recipe for Peach Muffins with Peach Butter.
Ingredients
1 1/2 cups plus 1 tablespoon all-purpose flour
1/2 cup granulated sugar
1 1/2 teaspoons baking powder
1/2 teaspoon baking soda
1/2 teaspoon salt
1 cup fresh peaches (2 medium peaches, seeded), chopped (or frozen unsweetened peaches, thawed)
1 cup sour cream
1/4 cup unsalted butter (1 stick), melted
1 large egg
1/2 teaspoon pure vanilla extract
Confectioners' sugar, for dusting
Peach Butter
1/2 cup unsalted butter (1 stick), at room temperature
1/4 cup peach preserves
Cooking Directions
Preheat the oven to 400 F. Lightly grease a 12-cup muffin tin and set aside.
Sift 1-1/2 cups of the flour, the granulated sugar, baking powder, baking soda, and salt into a large bowl.
In a small bowl, toss the peaches with the remaining 1 tablespoon flour.
Whisk together the sour cream, butter, egg, and vanilla in a medium bowl. Add the wet ingredients to the dry ingredients, stirring quickly until just combined, being careful not to overmix. Fold in the peaches and divide the batter among the muffin cups. (The dough will be somewhat cakey.) Bake until a tester inserted into the center of the muffins comes out clean and the muffins are puffed and golden brown, about 20 minutes.
Remove the muffins from the oven, let cool in the tin for five minutes, and then turn out onto a wire rack to cool. Sprinkle with confectioners' sugar and serve warm with the Peach Butter.
For Peach Butter
Combine the butter and preserves in a medium bowl. Using a rubber spatula, fold together until smooth. Pack the peach butter into a decorative bowl or ramekin and serve as an accompaniment to the peach muffins.
(The butter will keep in a tightly covered container in the refrigerator for up to 1 week.)
Recipes courtesy of Emeril Lagasse, Copyright 2005.
Other Recipes That You Might Like