French Toast Bread Pudding with Spiced Pears
Cheryl Hofmann's Recipe is a Finalist in 'GMA's' Recipe Contest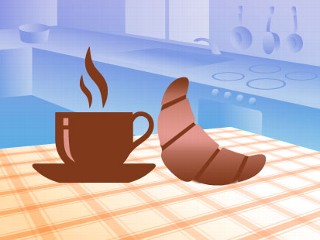 From the kitchen of Cheryl Hofmann
|
Cheryl Hofmann's French Toast Bread Pudding with Spiced Pears recipe is a finalist in "Emeril's Comfort for the Coast" contest.
The following is a recipe that is great for breakfast. It always make me think of Sunday mornings or holidays when everyone is together, hanging in their pjs with coffee and talking about anything and everything.
Ingredients
French Toast
1 tablespoon butter, softened
1 loaf cinnamon bread (challah, brioche, or any soft, egg-enriched bread - about 1 pound)
6 large eggs
1/2 cup sugar
2 1/2 cups milk (or half and half)
1 1/2 teaspoons vanilla extract
1 teaspoon cinnamon
Spiced Pears
2 tablespoons butter
2 firm-ripe Anjou or Comice pears, cored and cut into chunks
1 teaspoon sugar
1/2 teaspoon ground cinnamon
Freshly grated nutmeg
Maple syrup
Cooking Directions
The night before, make the french toast: smear the butter over the bottom and sides of a 13 by 9 by 2-inch baking dish or other shallow 2-quart baking dish. Tear the bread into small pieces and scatter in the dish.
In a bowl, whisk the eggs and sugar until light. Add the remainder and whisk well. Pour over the bread evenly. Tamp down the bread with a spoon or spatula to submerge each piece in egg mixture. Cover with foil, gently pressing down so the foil is right on the surface of the mixture. Refrigerate overnight.
The next morning, remove the dish and slide it into a cold oven with the foil on. Turn oven on to 350°F. After 25 minutes, gently pull off and discard the foil. Continue to bake until pudding is puffed and golden brown, about 20 more minutes.
In the meantime, prepare the spiced pears: melt butter in a wide frying pan (preferably nonstick) over medium-high heat then add the pears. Stir until pears are coated well with butter, and then sprinkle sugar, cinnamon, and a good pinch of fresh nutmeg; continue to cook about 3 minutes until pears begin to soften. Pour in 1/4 cup of maple syrup; cook until bubbly then remove from heat.
To serve spoon bread pudding onto plates and top with spiced pears. Pass additional maple syrup at the table.
Recipe copyright © 2005, Cheryl Hofmann
Other Recipes That You Might Like