Emeril's Coffee Cake
Apple Coffee Cake With Crumble Topping and Brown Sugar Glaze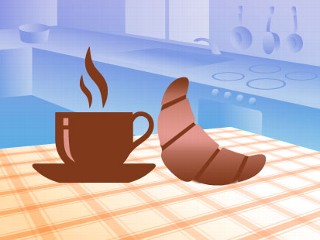 From the kitchen of Emeril Lagasse
|
Coffee cake is a great way to impress your guests after dinner. Emeril Lagasse shared his recipe for Apple Coffee Cake With Crumble Topping and Brown Sugar Glaze with "Good Morning America."
Ingredients
Cake
1 stick plus 2 teaspoons unsalted butter
1 1/2 cups light brown sugar, packed
2 large eggs
2 cups all purpose flour
1 teaspoon baking soda
1 teaspoon ground cinnamon
1/2 teaspoon salt
1 cup sour cream
1 teaspoon pure vanilla extract
2 cups peeled, cored and chopped apples
Crumble Topping
1/2 cup light brown sugar, packed
1/2 cup all purpose flour
1/2 teaspoon ground cinnamon
4 tablespoons unsalted butter, softened
Brown Sugar Glaze
1/2 cup packed light brown sugar
1/2 teaspoon vanilla extract
2 tablespoons water
Cooking Directions
Preheat the oven to 350° F. Lightly grease a 13-by-9-inch glass baking dish with two teaspoons of the butter.
In a large bowl, cream together the remaining stick of butter and sugar until light and fluffy. Add the eggs one at a time, beating after the addition of each. In a separate bowl or on a piece of parchment, sift together the flour, baking soda, cinnamon, and salt. Add to the wet ingredients, alternating with the sour cream and vanilla. Fold in the apples. Pour into the prepared baking dish, spreading out to the edges.
To make the topping, in a bowl, combine the sugar, flour, cinnamon and butter, and mix until it resembles coarse crumbs. Sprinkle the topping over the cake and bake until golden brown and set, 40 to 45 minutes. Remove from the oven and let cool on a wire rack for at least 10 minutes.
To make the glaze, in a bowl, combine the sugar, vanilla and water, and mix until smooth. Drizzle the cake with the glaze and let harden slightly. Serve warm.
Yield: 12 servings
Recipe courtesy Emeril Lagasse, Emeril's Food of Love Productions, 2006
Other Recipes That You Might Like