Emeril's Bacon, Green Onion and Cheddar Biscuits
Emeril Lagasse Gives You Great Brunch Ideas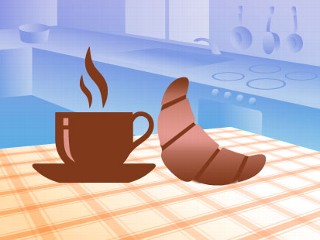 From the kitchen of Emeril Lagasse
|
Chef Emeril Lagasse cooks up quick and easy brunch recipes. Get the recipes for his meal ideas below.
Ingredients
1 1/4 cups self-rising flour
3/4 cup cake flour
3/4 teaspoon baking powder
1/8 teaspoon baking soda
1 tablespoon sugar
1/2 teaspoon salt
4 tablespoons cold unsalted butter, plus 2 tablespoons melted
4 strips bacon, rendered and small diced
1/3 cup Cheddar, grated
2 tablespoons green onion tops, chopped
1 1/4 cups heavy cream
1/4 cup all-purpose flour
Cooking Directions
Preheat the oven to 425 degrees F.
Sift the self-rising flour, cake flour, baking powder, baking soda, sugar and salt into a large bowl. Using your fingers or a pastry cutter, work the 4 tablespoons cold butter into the flour until the pieces are pea size. Add the bacon, cheddar and green onions to the flour mixture. Pour the heavy cream into the flour mixture and, with your hands or a rubber spatula, stir just until the cream and flour come together to form a dough. Sprinkle some of the all-purpose flour on a work surface and place the dough on top of the flour.
Using your hands, press the dough into a 1/2-inch thick disk about 8 inches in diameter. Using a 3-inch round cutter dusted with flour, cut out 6 dough rounds. Be sure to press straight down when cutting the dough (a twisting motion will prevent the dough from rising).
Brush a baking sheet with 1 tablespoon of the melted butter. Place the biscuits on the baking sheet and brush the tops with the remaining tablespoon of melted butter. Bake in the oven for 15 to 20 minutes, or until golden brown. Allow to cool briefly before removing the biscuits from the baking sheet with a metal spatula.
Recipe courtesy Emeril Lagasse, copyright Martha Stewart Omnimedia, Inc.
Other Recipes That You Might Like