Emeril's Fried Eggs With Home Fries
Emeril Lagasse Gives You Great Brunch Ideas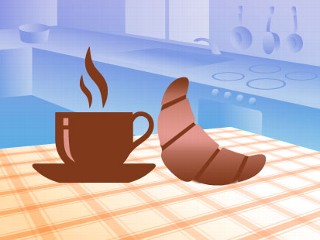 From the kitchen of Emeril Lagasse
|
Chef Emeril Lagasse cooks up quick and easy brunch recipes. Get the recipes for his fried eggs and home fries below.
Ingredients
4 slices bacon, diced
3/4 cup yellow onions, chopped
1/2 cup poblano or green bell pepper, chopped
2 teaspoons garlic, minced
6 tablespoons unsalted butter, divided
3 pounds baking potatoes (like russets), peeled and cut into 1/2-inch cubes, and parboiled
1 tablespoon fresh sage leaves, freshly chopped
1 teaspoon Emeril's Original Essence
Salt and freshly ground black pepper
8 large eggs, divided
Cooking Directions
Set a 10-inch saute pan over medium heat and add the bacon. Cook the bacon slowly rendering the fat by stirring occasionally until crispy, about 8 minutes.
Remove the bacon from the pan using a slotted spoon, and add the onions and poblano pepper and saute, stirring occasionally until softened, about 3 to 4 minutes. Add the garlic and saute for 30 seconds. Add 2 tablespoons of the butter, the potatoes, sage, Essence, 3/4 teaspoon salt and 1/4 teaspoon pepper.
Continue to cook the hash, stirring occasionally until the potatoes are warmed through, about 3 to 4 minutes.
Recipe courtesy Emeril Lagasse, copyright Martha Stewart Omnimedia, Inc
Other Recipes That You Might Like