Emeril's Baked Banana 'French Toast' With Pecan Sauce
Emeril Lagasse Cooks Some Delicious Breakfast Treats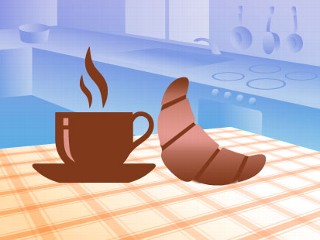 From the kitchen of Emeril Lagasse
|
It's Christmas morning and that means presents. Chef Emeril Lagasse has got one for you: delicious Baked Banana French Toast with Pecan Sauce.
This recipe makes 10 to 12 servings.
Ingredients
French Toast
4 tablespoons butter, softened
1/2 cup packed light brown sugar
10-12 slices white sandwich bread, cut in fourths, crusts trimmed
5 firm-ripe bananas, peeled and cut in half lengthwise
1 dozen large eggs
2 cups half and half
1/4 cup banana liqueur (optional)
3/4 teaspoon cinnamon
1 recipe Pecan Sauce (recipe follows)
Pecan Sauce
1 1/2 cups sugar
1/4 cup water
1 cup heavy cream
1 cup pecans, toasted and chopped
2 tablespoons butter
pinch of salt
2 teaspoons vanilla
2 tablespoons bourbon or dark rum (optional)
Cooking Directions
Preheat the oven to broil.
In a small mixing bowl combine 3 tablespoons of the butter and the brown sugar. Sprinkle the sugar butter mixture evenly over the bottom of an 8 1/2-by-8 1/2-inch square metal baking pan. Lay the banana slices in one even layer over the bottom of the pan. Dot the remaining tablespoon of butter over the bananas. Broil the bananas and sugar in the oven until the sugar is melted and the bananas are caramelized, 8 to 9 minutes. Remove the pan from the oven and allow the pan to cool.
In a large bowl, whisk together the eggs, half-and-half, banana liqueur (if desired) and cinnamon.
Lay half of the bread slices over the bananas to form one even layer of bread covering the bananas. Pour half of the egg mixture evenly over the bread. Repeat this process for a second layer of bread and pour the remaining egg mixture over the top. Cover with aluminum foil and refrigerate for at least one hour and up to overnight.
Preheat the oven to 350 degrees F.
Bake the French toast for 20 minutes, remove the foil and return to the oven until golden brown and puffed, about 30 minutes longer. Remove from the oven and allow to sit until slightly cooled, about 15 minutes. Serve in bowls with pecan sauce ladled over the top.
For Pecan Sauce: Add sugar and water to a 2-quart or larger heavy-bottomed sauce pan, do not worry about mixing, and set over medium high heat. Cook sugar without disturbing (swirling pan occasionally is OK) until deep amber in color and fragrant, usually 10 to 12 minutes. Remove pan from heat and, in two parts, vigorously whisk in heavy cream -- Be Careful, as the hot caramel will splatter. Once heavy cream is fully incorporated, return saucepan to heat and add pecans. Do not worry if caramel clumps around the whisk -- it will melt into the sauce. Cook until smooth, 1 to 2 minutes longer, and whisk in butter, salt, vanilla and bourbon (if desired). Remove from heat and allow the sauce to cool.
Recipe courtesy Emeril Lagasse, courtesy Martha Stewart Living Omnimedia Inc.
Other Recipes That You Might Like