Ham and Cheese Waffle Sandwich
Quick, Easy and Cheap Brown Bag Recipes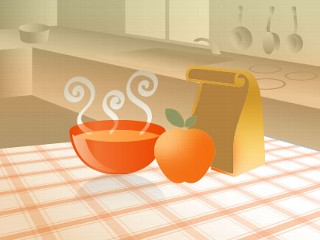 From the kitchen of Sara Moulton
|
Back-to-school time is here, and "Good Morning America" food editor Sara Moulton has five quick, inexpensive meals that parents can make for their children's lunches. Brown bagging just got a whole lot better! Check out this simple lunchtime meal.
Ingredients
8 frozen toaster waffles (plain or whole grain), unthawed
1 tbsp. Dijon mustard (optional)
1/2 lb. sliced deli ham
1/2 lb. cheddar, thinly sliced
4 tbsp. unsalted butter
Cooking Directions
Place 4 of the waffles on a work surface. Spread with the mustard (if using).
Top with the ham, Cheddar, and the remaining waffles. Spread the top of each sandwich with 1/2 tablespoon of the butter.
Melt the remaining butter in a large non-stick skillet over medium heat.
Place the sandwiches in the skillet, buttered-side up. Cook, pressing with the back of a spatula and turning occasionally, until the cheddar melts and the waffles are golden, 3 to 4 minutes per side.
You can also try with...
Turkey, mozzarella and honey mustard
Peanut butter
Jelly and scrambled eggs w/ Swiss cheese
Courtesy of "Real Simple; Meals Made Easy"
Other Recipes That You Might Like