Ina's Country French Omelet
Ina Garten's Brunch Recipes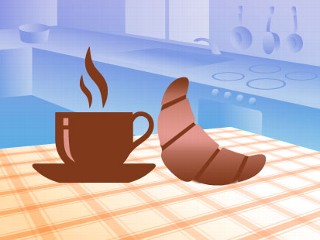 From the kitchen of Ina Garten
|
Nearly everyone focuses on dinner during the holiday season, but Ina Garten thinks brunch is a great way to connect, too.
Jeffrey and I have a wonderful routine when we go to Paris. We arrive late morning, drop our bags, and rush to Café Varenne for lunch. They make this fabulous country omelet with bacon, potatoes, and chopped chives. It's such a satisfying breakfast or lunch. If you want to serve four people, double the recipe and make it in two pans.
Ingredients
1 tablespoon good olive oil
3 slices thick-cut bacon, cut into 1-inch pieces
1 cup Yukon Gold potatoes, unpeeled, 1-inch-diced
Kosher salt and freshly ground black pepper
5 extra large eggs
3 tablespoons milk
1 tablespoon unsalted butter
1 tablespoon fresh chives, chopped
Cooking Directions
Preheat the oven to 350 degrees.
Heat the olive oil in a 10-inch ovenproof omelet pan over medium heat. Add the bacon and cook for 3 to 5 minutes over medium-low heat, stirring occasionally, until the bacon is browned but not crisp. Take the bacon out of the pan with a slotted spoon and set aside on a plate.
Place the potatoes in the pan and sprinkle with salt and pepper. Continue to cook over medium-low heat for 8 to 10 minutes, until very tender and browned, tossing occasionally to brown evenly. Remove with a slotted spoon to the same plate with the bacon.
Meanwhile, in a medium bowl, beat the eggs, milk, 1/2 teaspoon salt, and 1/4 teaspoon pepper together with a fork. After the potatoes are removed, pour the fat out of the pan and discard. Add the butter, lower the heat to low, and pour the eggs into the hot pan. Sprinkle the bacon, potatoes, and chives evenly over the top and place the pan in the oven for about 8 minutes, just until the eggs are set. Slide onto a plate, divide in half, and serve hot.
Other Recipes That You Might Like