Paula Deen's Banana-Chocolate Gorilla Bread
The Food Network Star Visited 'GMA' to Share Treats From the 'Deen Family Cookbook'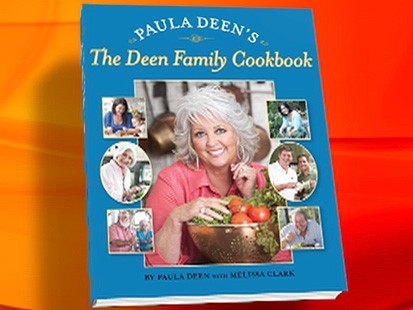 Paula Deen discusses her new cookbook with collaborations from her family.
From the kitchen of Paula Deen
|
Savannah restaurateur and Food Network star Paula Deen joined "Good Morning America" to whip up a few of her favorite home cooking recipes. This recipe comes from Paula Deen's "Deen Family Cookbook" and was created by her stepdaughter Michelle.
"Folks, you simply must try Michelle's Gorilla Bread," Paula said in the book. "It's bigger and better than monkey bread, plus it is so fun to make."
Recipe courtesy of Paula Deen's The Deen Family Cookbook; Simon & Schuster 2009.
Ingredients
3 tablespoons granulated sugar
1 teaspoon ground cinnamon
1 cup light brown sugar, packed
8 tablespoons butter (1 stick)
2 tubes refrigerated crescent roll dough (12 ounces)
3 tablespoons sweetened condensed milk
2 bananas, sliced 1/4-inch to make thick 48 slices
4 ounces semisweet chocolate chips (about 2/3 cup)
1 1/2 cups walnuts, chopped
Cooking Directions
Preheat oven to 350°F. Spray a Bundt pan with non-stick cooking spray. Mix the granulated sugar and cinnamon. In a small saucepan, melt the brown sugar with the butter over low heat.
Break open the crescent roll packages and separate the triangles of dough. Brush each triangle with sweetened condensed milk and top with 2 banana slices and 1 teaspoon chocolate chips; fold the edges of the triangle together and seal. Sprinkle each with 1/4 teaspoon of the cinnamon sugar.
Place half of the walnuts in the pan and top with half of the dough packets. Pour half of the brown sugar-butter mixture over the dough and sprinkle with 2 teaspoons of the cinnamon sugar. Repeat with the remaining ingredients. Bake for 1 hour, until puffed, golden brown, and firm to the touch. Transfer the pan to a rack and allow to cool for 5 minutes. Place a platter on top of the pan and invert. Serve warm.
Other Recipes That You Might Like