Emeril's Lemon and Blueberry Buttermilk Pancakes
Make Mother's Day Memorable With These Homemade Breakfast Treats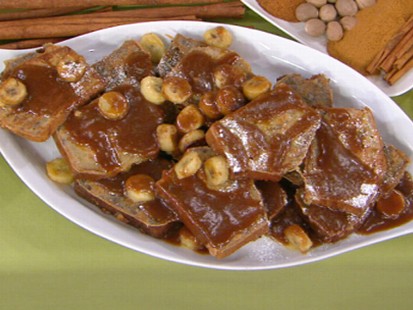 Emeril prepares the Banana Bread French Toast that he made for one special mom.
From the kitchen of Emeril Lagasse
|
One especially deserving mother got the surprise of her life when Emeril came a-knocking on her door this morning to treat her to breakfast in bed ? but she doesn't have to be the only one!
With Emeril's delicious recipes, you can make the special mother in your life her own breakfast in bed.
In anticipation of the big day, Emeril gave tips and recipes on how to make scrumptious breakfast foods.
Recipe courtesy Emeril Lagasse, Emeril's Food of Love Productions, 2008
Ingredients
1 cup all-purpose flour
2 tablespoons sugar
1 teaspoon baking powder
1/2 teaspoon baking soda
Pinch salt
1 1/4 cups buttermilk
1 large egg
2 tablespoons butter, melted
2 tablespoons lemon zest, finely grated
1 pint blueberries, washed and patted dry
Butter, room temperature, for serving
Maple syrup, for serving
Cooking Directions
Into a small mixing bowl, sift together the flour, sugar, baking powder, baking soda and salt. In a medium mixing bowl, whisk the buttermilk, egg, and melted butter until thoroughly combined.
Add the sifted dry ingredients to the buttermilk mixture and whisk until just combined; batter may still have a few lumps. Fold in the lemon zest and allow the batter to sit for 10 minutes.
Lightly grease the Emerilware 11-inch Cast-Iron griddle and heat over medium-low heat. Working in batches, pour 1/4 cup of the batter onto the hot griddle for each pancake (you can cook 3 pancakes at a time on the griddle). Place about 2 scant tablespoons of blueberries over the top of each of the pancakes and cook for about 2 to 3 minutes, or until the batter bubbles and is golden brown around the edges, flip over and continue to cook for about 1 minute longer.
Transfer pancakes to a warmed platter or baking sheet and keep warm while you repeat the above process with the remaining batter and blueberries.
Serve the pancakes hot, with butter and syrup.
Other Recipes That You Might Like