Emeril's Spanish Style Tortilla
Emeril Lagasse's Easy Crowd-Pleaser.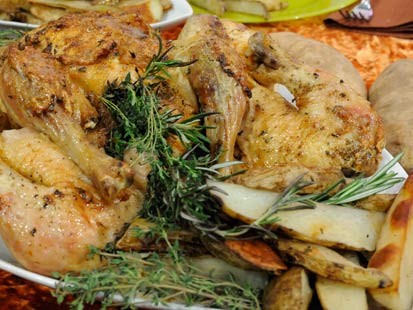 From the kitchen of Emeril Lagasse
|
Ingredients
1 tablespoon olive oil
1 cup onion, small dice
1/2 cup ham, small dice
4 eggs
1/2 teaspoon salt
1/4 teaspoon and freshly ground white pepper
1/4 cup leftover chicken
3 tablespoons chives, chopped
1 teaspoon fresh oregano, chopped
1/2 cup soft melting cheese (such as gouda or mild cheddar), grated
1/8 teaspoon pimento (smoked paprika or hot paprika), for garnish
Cooking Directions
Preheat the oven to 350 degrees F.
Heat the olive oil in a small (8-inch) nonstick saute pan or skillet over medium-high heat. Add the onions and ham and cook until lightly browned and caramelized, 7 minutes. Beat the eggs with the salt, pepper, chives and oregano, until frothy, using a whisk. Set aside.
Add the potatoes and chicken to the hot saute pan and stir to mix well with the onions and ham. Saute until potatoes are warm, about 4 minutes. Pour in the egg mixture, stirring and shaking the pan so that the egg mixture makes it through to the bottom of the saute pan. Let it set for one minute over the heat, then sprinkle the cheese on top and transfer pan to the oven. Continue cooking until the eggs are completely set (use a pairing knife to poke the center to make sure), about 18 minutes.
Remove from the oven and carefully turn tortilla out onto a clean plate. Garnish with the pimento, slice into wedges and serve immediately.
Recipe courtesy Emeril Lagasse, Martha Stewart Omnimedia, 2008
Other Recipes That You Might Like