Wolfgang Puck's Frittata
With $15 Worth of Groceries Chef Wolfgang Puck Creates Brand-New Recipe: Get It Here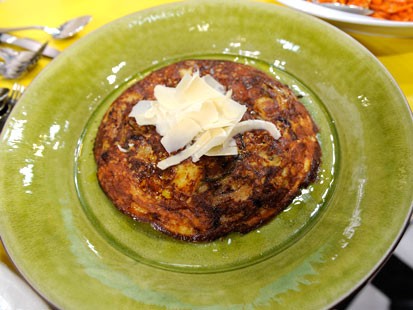 From the kitchen of Wolfgang Puck
|
As part of "GMA's" $15 Dinner Dare series, each day an anchor will unveil a list of secret ingredients. Then a chef will have to prepare a tempting meal live on the air with the newly unveiled ingredients.
Wolfgang Puck is the fourth and final chef to take on the challenge. Robin Roberts gave him a list of surprise ingredients live on the air today.
Ingredients
2 tbsps. olive oil
1 medium yellow onion, sliced
1/2 green bell pepper, sliced
1 tsp. minced garlic
1 small potato, peeled and cut into a small dice
7 eggs
1/3 c. plain yogurt
1/3 c. grated Parmesan cheese
Salt and pepper
Cooking Directions
Preheat oven to 500 degrees.
Heat two tablespoons of olive oil in an 8-inch oven-safe nonstick skillet. Add onion, peppers and potatoes. Saute vegetables until they have softened, about 3 to 5 minutes. Stir in the garlic.
In a food processor, or with a whisk in a large bowl, combine the eggs, yogurt, Parmesan and salt and pepper. Blend until smooth.
Pour egg mixture over the vegetables in the pan, and place in the oven for about 15-20 minutes, just until eggs are set. Remove from oven and let sit for 5 minutes and turn out onto a serving platter.
Garnish with a drizzle of olive oil and Parmesan shavings, if desired.
*Recipe courtesy of Wolfgang Puck
Other Recipes That You Might Like