Potato Pancake Breakfast Scramble Sandwich
Mom & Daughter Sandwich Recipe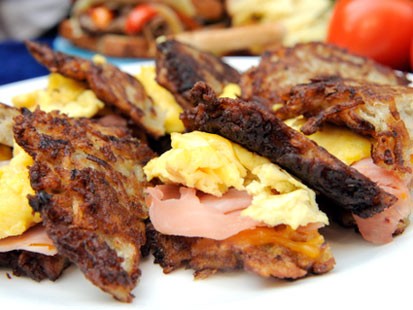 From the kitchen of Vonda & Diana Carrasquillo
|
One day, Diana Carrasquillo of Brunswick, Georgia, was in a hurry and she used potato pancakes for bread. It became hit in her household. Her mom, Vonda, had made extra mashed potatoes and then made potato pancakes. They were a great addition to the eggs, ham and cheese.
Do you think you make the best sandwich in the country? Click here to tell us how you do it.
Ingredients
potato pancakes
cheddar cheese
scrambled eggs
sliced ham
salt
pepper
Cooking Directions
For potato pancakes: mashed potatoes, bread crumbs, salt and pepper. Make into a pancake shape, cook in skillet until golden on each side. Melt cheddar cheese on the top. In another pan scramble eggs, warm up ham. place potato pancake on plate, layer with egg, ham and another potato pancake.
Other Recipes That You Might Like