Wolfgang Puck's Bread Pudding With Berries
The Ingredients For This Bread Pudding Can Be Tweaked For All Seasons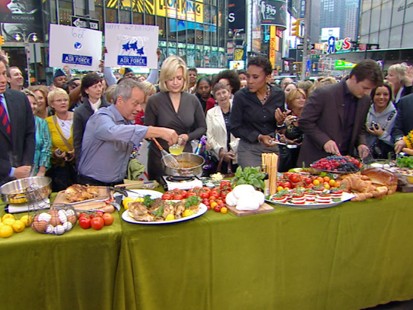 The acclaimed chef prepares pan-roasted chicken.
From the kitchen of Wolfgang Puck
|
"I make this beautiful bread pudding all the time when I cook on HSN because it's so good, and most important, it's very easy to make. You can make it with fresh berries in spring and summer, and in the fall and winter substitute sautéed diced apples, dried fruit or even chocolate chips. I love to eat this for breakfast as much as I do for dessert. It looks especially nice when I make it in the paella pan." -- Wolfgang Puck
Recipe courtesy Wolfgang Puck, "Wolfgang Puck Makes it Easy" Rutledge Hill Press, 2004/i>
Ingredients
5 cups cubed stale brioche, challah croissants or French bread (crusts removed)
3 cups whole milk
1 cup heavy cream
1 cup sugar
1 vanilla bean, split and scraped, or 1 teaspoon vanilla extract
4 large eggs
4 large egg yolks
Pinch of salt
3 ounces semi-sweet chocolate, chopped
1 cup berries
Cooking Directions
Preheat the oven to 350 degrees F.
Generously butter a 12-inch round oven-proof pan or a 3-quart baking dish.
Combine the milk, cream, sugar, and vanilla bean in a saucepan and bring to a simmer. Stir to dissolve the sugar, then remove from the heat, cover the pan with plastic wrap and allow to steep for 15 minutes (if using vanilla extract you don't have to steep the mixture).
Remove the vanilla pod, scraping all of the remaining seeds into the milk.
Meanwhile, spread the bread cubes on a baking sheet and place in the oven.
Toast until golden brown, 8 to 10 minutes.
Remove from the heat and arrange in the baking dish in an even layer.
Beat the eggs and egg yolks together in a bowl.
Bring the milk mixture back to a simmer and remove from the heat.
Making sure that the mixture is not simmering, whisk 1/2 cup into the egg yolks.
Combine well, then whisk the tempered eggs back into the milk mixture. Scrape in all of the egg mixture with a rubber spatula.
Pour the custard mixture over the bread and let sit for 5 minutes.
Gently press the bread down into the custard mixture. Gently fold in chocolate and top with the berries.
Place the baking dish in a roasting pan and fill the roasting pan with enough water to come halfway up the sides of the baking dish.
Bake 45 minutes, until set and the top is just beginning to color.
Remove from the oven and allow to cool. Serve warm, room temperature, or cold.
Other Recipes That You Might Like