Slow-Cooked Apple Crisp
Crock Pot Comfort a Recipe for a Perfect Fall Dessert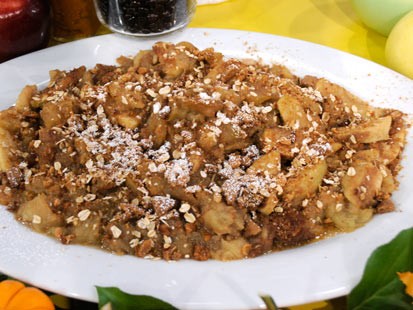 From the kitchen of Stephanie O'Dea
|
"The fall chill has set in, the leaves are falling and you are in need of a comforting dessert. Pull out the slow cooker and whip up this easy apple crisp recipe."
-Stephanie O'Dea
Ingredients
9 small apples
4 tablespoons (1/2 stick) butter
¼ cup orange juice
1/3 cup brown sugar, plus 2 tablespoons for crumb topping
2 tablespoons vanilla extract
1 cup crumb topping stuff (Substitutable withgluten-free gingersnap crumbs mixed with crushed gluten-free cereal, oats, smashed cereal, graham crackers, cookies, etc.)
cooking spray
Cooking Directions
Use a 4-quart slow cooker.
Spray the inside bottom and sides of your stoneware with cooking spray.
Peel, core, and slice the apples and plop them into the crock.
Cube the butter and dot on top.
Add the orange juice, 1/3 cup brown sugar, and vanilla.
Toss to combine with the apples.
Smash up your topping of choice and combine with the remaining 2 tablespoons of brown sugar.
Sprinkle on top of the apple concoction.
Cover and cook on high for 3 hours, or until the apples are sufficiently tender.
If you like your crumb topping crunchy (I do!), broil the uncovered stoneware on the lowest rack of your over for 4 to 7 minutes, or use a kitchen torch.
Serve with vanilla ice cream.
* Courtesy of "Make It Fast, Cook It Slow: The Big Book of Everyday Slow Cooking."
Other Recipes That You Might Like