Make-Ahead Savory Breakfast Bread Pudding
Emeril Makes Christmas Day Breakfast Easy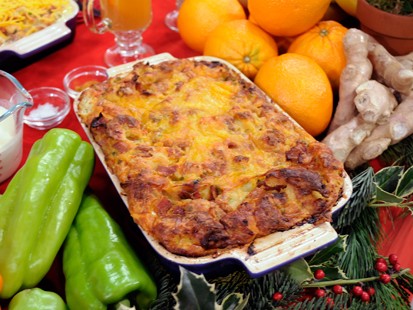 From the kitchen of Emeril Lagasse
|
You want to enjoy Christmas morning with your family around the tree and not have to stand in front of the stove getting breakfast ready. Emeril has a wonderful make-ahead idea for a savory breakfast bread pudding. This will afford you more time with the family on Christmas morning.
Ingredients
6 ounces thick-cut smoked bacon, diced (about 4 strips)
1 1/4 cups chopped yellow onion
3/4 cup chopped mixed red and green bell peppers
2 3/4 teaspoons Essence
4 large croissants (about 12 ounces total), cut into 1-inch pieces
2 green onions, minced (about 1/4 cup)
6 ounces grated medium yellow cheddar
7 large eggs
1 1/4 cups milk
3/4 cup heavy cream
1/4 teaspoon salt plus a pinch
Cooking Directions
In a medium skillet cook the bacon over medium high heat until crisp and the fat has rendered, 4 to 6 minutes. Remove the bacon using a slotted spoon and transfer to a paper towel-lined plate to drain. Remove all but 1 1/2 tablespoons of the bacon drippings from the pan and reserve the drippings on the side. To the remaining drippings in the pan add the onion, bell peppers, and 3/4 teaspoon of the Essence and cook, stirring often, until soft and lightly caramelized, 4 to 6 minutes. Return the bacon to the pan and stir to combine.
Using a bit of the reserved bacon drippings, lightly grease a 1 1/2 quart oval gratin dish, or other shallow baking dish of similar size. Add half of the croissant pieces to the dish, then spoon half of the vegetable-bacon mixture over the bread. Sprinkle with half of the green onions and then top with half of the cheese. Repeat to form a second layer with the remaining bread, vegetables, green onions and cheese.
In a mixing bowl combine the eggs, milk, heavy cream, salt, and remaining 2 teaspoons of Essence and whisk to combine. Pour the egg-milk mixture slowly over the casserole so that it is evenly distributed. Cover with plastic wrap and refrigerate for at least 4 hours or up to overnight.
Preheat the oven to 325 degrees F and remove the breakfast casserole from the refrigerator while the oven is preheating.
Remove the plastic wrap from the casserole and then cover with a piece of buttered aluminum foil (buttered side down). Bake for 30 minutes. Remove casserole from the oven and remove the foil, then continue to bake, uncovered, until casserole is puffed, set in the middle, and golden brown on top, 30 to 35 minutes longer. Remove from the oven and allow to sit for 10 to 15 minutes before serving.
Recipe courtesy Emeril Lagasse, courtesy MSLO, Inc.
Other Recipes That You Might Like