'Hungry Girl' Lisa Lillien's Yummy Butternut Home Fries
From the Book 'Hungry Girl Chew the Right Thing'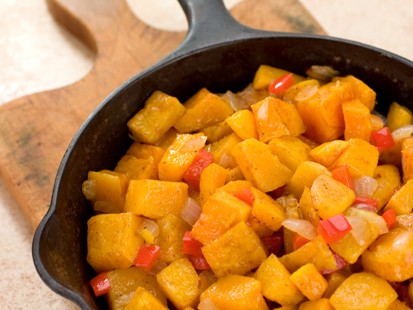 From the kitchen of Lisa Lillien
|
Being a skinny girl doesn't mean you have to be a hungry girl.
Get a taste of how delicious low cal can be by trying out her Yummy Butternut Home Fries recipe below.
Ingredients
2 cups peeled and cubed butternut squash (1-inch cubes)
1/2 medium red bell pepper, chopped
1/2 medium onion, chopped
1/2 cup fat-free broth (chicken or vegetable)
1/2 tablespoon olive oil
1/4 teaspoon pumpkin pie spice
Dash cayenne pepper
Salt and black pepper, to taste
Cooking Directions
Sauté onion with olive oil in a pan over low heat for 1 to 2 minutes, until translucent.
Add bell pepper and cook for 1 minute.
Add squash and stir. Raise heat to medium and add all spices. Mix well.
Cook for about 7 minutes, until squash starts to soften.
Raise heat to high and add broth. Bring to a boil. After 30 seconds of boiling, reduce heat to low.
Simmer until broth evaporates, stirring often.
Cover pan and continue to cook for 3 minutes, or until squash is tender. Eat up!
From "Hungry Girl Chew the Right Thing" by Lisa Lillien. Copyright © 2009 by the author and reprinted by permission of St. Martin's Griffin.
Home Fries, Average
about 275 calories and 14g fat
Yummy Butternut Home Fries
58 calories and 2g fat
Other Recipes That You Might Like