Banana-Chip Mini Cupcakes
From the Comfort Food Diet Cookbook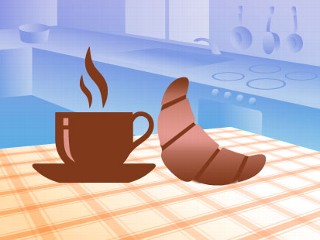 From the kitchen of Taste of Home
|
Ingredients
1 package banana quick bread and muffin mix (14 ounces)
3/4 cup water
1/3 cup sour cream
1 egg
1 cup miniature semisweet chocolate chips, divided
1 tablespoon shortening
Cooking Directions
In a large bowl, combine the muffin mix, water, sour cream and egg; stir just until moistened. Fold in 1/2 cup chocolate chips.
Fill greased or paper-lined miniature muffin cups two-thirds full. Bake at 375° for 12-15 minutes or until a toothpick inserted near the center comes out clean. Cool for 5 minutes before removing from pans to wire racks to cool completely.
For frosting, in a small microwave-safe bowl, melt shortening and remaining chocolate chips; stir until smooth. Frost cupcakes.
Yield: about 3 1/2 dozen.
Find all the recipes for Week One of Taste of Home's Comfort Food Diet Cookbook.
Nutritional Analysis: 1 cupcake equals 65 calories, 2 g fat (1 g saturated fat), 6 mg cholesterol, 57 mg sodium, 10 g carbohydrate, trace fiber, 1 g protein.
Other Recipes That You Might Like