Twice-Baked Cinnamon Ginger Sweet Potatoes
From the 'Chef's Table' to Your Dinner Table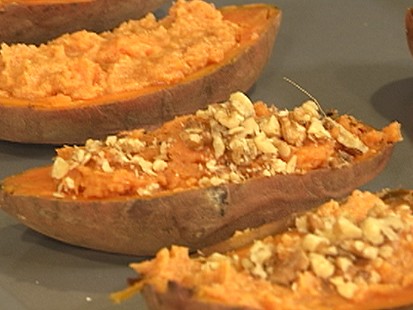 Jamie and Bobby Deen do a mouthwatering smash up of spices.
From the kitchen of Jaime and Bobby Deen
|
Ingredients
4 medium sweet potatoes or yams, baked
2 tbsp. I Can't Believe It's Not Butter!® Cooking & Baking sticks
1 tbsp. firmly packed brown sugar
1/2 tsp. ground cinnamon
1/4 tsp. ground ginger
1/8 tsp. salt
Cooking Directions
Preheat oven to 425°. Slice potatoes in half lengthwise. Scoop out pulp, reserving potato skin and pulp.
In medium bowl, combine potato pulp with remaining ingredients. Spoon pulp mixture into potato skins and arrange on baking sheet.
Bake 10 minutes or until heated through. Garnish, if desired, with chopped walnuts.
Other Recipes That You Might Like