Fudgy Brownie Torte
Chocolatey Goodness Thanks to 'Chef's Table'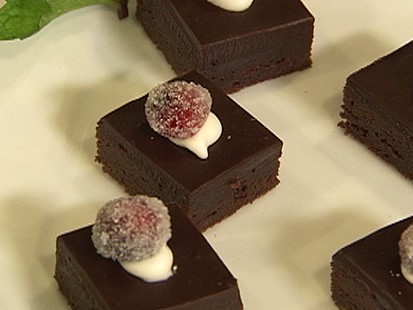 Jamie and Bobby Deen heat up chocolate chips with lots of butter.
From the kitchen of Jaime and Bobby Deen
|
Ingredients
1/2 cup PLUS 2 tsp. I Can't Believe It's Not Butter!® Cooking & Baking sticks
1 1/2 cups semi-sweet chocolate chips, divided
2 tbsp. unsweetened cocoa powder
1 cup sugar
2 large eggs, slightly beaten
1 tsp. vanilla extract
1/4 tsp. salt
1 cup all-purpose flour
1/4 cup heavy or whipping cream
Cooking Directions
Preheat oven to 350°. Spray 9-inch round cake pan with nonstick cooking spray, then line bottom with waxed paper and spray again; set aside.
Melt 1/2 cup I Can't Believe It's Not Butter!® Cooking & Baking sticks, 1 cup chocolate chips and cocoa in 3-quart saucepan over low heat, stirring occasionally. Remove from heat, then stir in sugar, eggs, vanilla and salt. Stir in flour just until blended. Spread into prepared pan.
Bake 25 minutes or until toothpick inserted in center comes out almost clean. Cool 15 minutes on wire rack. Remove from pan and cool completely.
Meanwhile, bring cream just to the boiling point in 1-quart saucepan. Remove from heat, then stir in remaining 1/2 cup chocolate chips and 2 teaspoons Spread until melted. Let cool to thicken, stirring occasionally.
Place rack with cake on waxed paper, then spread chocolate mixture on cake. Refrigerate until firm, about 1 hour. Garnish, if desired, with raspberries.
16 servings
For Brownie Truffle Bites, prepare torte as above, baking in 8-inch square pan. After cake has been refrigerated, cut into 1-inch squares.
Nutrition Information per brownie:
Calories 230, Calories From Fat 120, Saturated Fat 6g, Trans Fat 0g, Total Fat 13g, Cholesterol 30mg, Sodium 100mg, Total Carbohydrate 29g, Sugars 21g, Dietary Fiber 1g, Protein 2g, Vitamin A 8%, Vitamin C 0%, Calcium 2%, Iron 6%
Other Recipes That You Might Like