For years Jamyce Lee would sit in her home and watch ABC's "The View," dreaming of joining the ladies' topical banter.
But after she was named one of "Good Morning America's" Living the Dream contest winners, Jamyce saw her dream come true.
For one day, Jamyce took to the stage with Whoopie Goldberg, Joy Behar, Elisabeth Hasselbeck and Sherri Shepherd.
CLICK HERE to see Jamyce's winning submission video.
A normal day of work for Jamyce starts early at 5 a.m., when she heads out. Work lasts until 3 p.m., when her kids get home.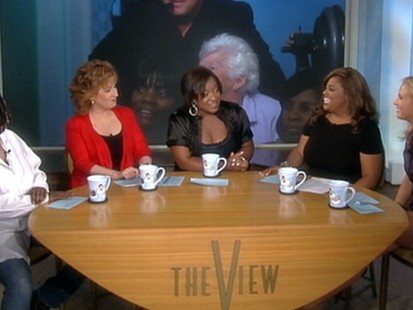 "And nine times out of 10, I'm cooking, trying to do something like that before I have to go to practice or a baseball game or a soccer game or a football game, or whatever season it is," she told "Good Morning America."
When she goes back to school to finish her degree in business administration like she plans, her days only will get busier.
Even though it's a life she loves, she told "Good Morning America" that one of her only moments of peace is when she sits down to watch "The View."
"I really do think that 'The View' is great because it gives so much," she said. "It talks about so much -- it's views of different opinions, of different cultures, of different backgrounds."
So when "Good Morning America" told Jamyce her dream to be on the show was going to come true, she was more than a little excited.
CLICK HERE to see Jamyce's reaction to the news that her dream would come true.
Jamyce, originally from Kankakee, Ill., packed her bags and brought her three kids along with her to the big city, New York, to "The View" set.
Jamyce Takes on the Ladies of 'The View'
She got to meet the show's personalities backstage before the show during a professional hair and makeup session, and then it was time to hit the stage. Even just as the lights went up and the audience started applauding, Jamyce said she wasn't nervous.
During the show, Jamyce held her own with the girls. While Jamyce, a single mother, said she usually disagrees with Elisabeth the most, the two women found common ground as working mothers.
While she was chatting on television, comedian and "The View" guest Russell Brand took care of her kids backstage -- if by taking care, you mean throwing tissues at and otherwise playfully harassing the kids.
By the time the lights went down at the end of the show, Jamyce seemed to have found a second home on the set and a renewed appreciation for pursuing your dreams.
"Believe in yourself despite any troubles or tribulations that may come into life," she said. "I mean, believe me, my life has not been a piece of cake by no means. And I think that everything that goes on in life, you turn into a life lesson and you learn from it. And you build on it. And just continue to, you know, believe that what you have that you want, go after it. Make it yours."
Click here to return to the "Good Morning America" Web site.