Amanda Roberts of Bossier City, Louisiana isn't your average Dallas Cowboys football fan.
Her passion started as a young girl, cheering for the team because her mother was a fan. She continued watching the games as she grew up and even married "one of the biggest Cowboy fans" she knows.
But Roberts' love for the Cowboys stretches beyond the sport. Her lifelong dream was to cheer and dance with the famous Dallas Cowboys Cheerleaders.
The 43-year-old Roberts says she watches all of the Cowboys games, tunes in to the Dallas Cowboys Cheerleaders reality show, "Making the Team," and works out to the Cowboys Cheerleaders exercise DVDs. She even has her own Cowboys Cheerleader costume, something she bought to surprise her then fiance, now husband.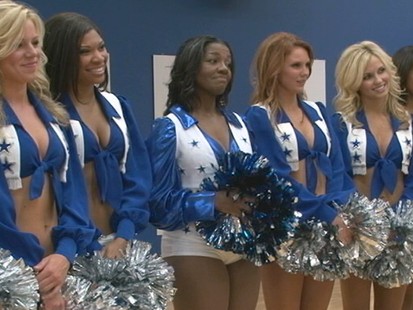 Originally from Dayton, Texas, Roberts spent her high school years as a twirler. But she says she still regrets not auditioning to be one of America's sweethearts.
"Twirling has the same little step ball changes and the 8-counts like the Cheerleaders do. Twenty-something years ago that could have been me," Roberts told "Good Morning America."
So it was the dream of a lifetime when Roberts was selected as one of four winners of "Good Morning America's" Living the Dream Contest. Going back to her roots, she got to live out her Texas-sized dream of being a Dallas Cowboys Cheerleader.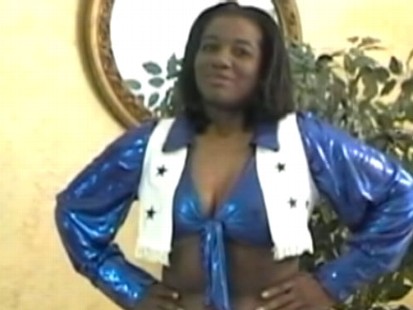 "I couldn't feel my heart beat. I knew it was beating but I couldn't feel it," she said.
Roberts joined the squad for a day at its training facility in Valley Ranch, Texas to learn what it takes to make it as a cheerleader. The cheerleaders had Roberts strutting her stuff, pom-poms in hand, without a moment to spare.
"That was kind of nerve-racking because they did it so fast. It's like OK, remember this step, remember this step," Roberts said.
As she worked to master the intricate choreography, she learned the hard work that goes into each eight-count.
"I'm going to need water and 911 standing on the side," Roberts said. "Because if they make me do a little lift or I have to do a split, something's going to break."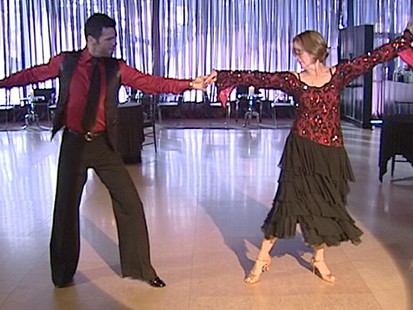 Living the Dream, Looking the Part
During her day with the squad, she had the chance to learn a fan-favorite routine and of course, the iconic kick line. And with a little practice, Roberts showed she could keep up with the team.
"She got that leg down," said cheerleaders choreographer Judy Trammell.
"She sure did," said the squad's director, Kelli Finglass.
Both Finglass and Trammell are former Cowboys Cheerleaders themselves.
For all her practice, though, Roberts quickly learned how exhausting dancing can be.
"Learning the steps, I had a flashback and thought, 'If I was 27 years younger, I can really do this, and raise my leg up, and have the more energy,'" Roberts said.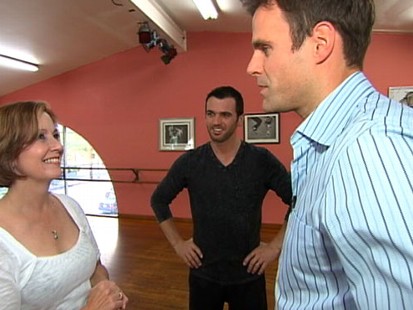 Luckily, the seasoned cheerleaders were there to offer some words of advice.
"When you shake your poms, if you shake them into yourself, you fan yourself," cheerleader Meredith Oden said.
Along with seasoned veterans, Roberts got to work with first-year rookies, who are still fighting for their spots on the squad.
"Anybody during these next few weeks could be eliminated," Finglass said.
Now, they may even have some new competition.
"Sorry, I'm going to take your spot!" Roberts joked.
But before she could fully act the part, Roberts needed to look the part. She was presented with the trademark uniform -- a blue blouse, a white vest and white shorts adorned with glittery blue stars. She also got to wear a pair of the team's classic white cowboy boots.
Dancing for Her Biggest Fan
After hair, makeup and wardrobe, Roberts' transformation to a Dallas Cowboys Cheerleader was almost complete. Still, Finglass wasn't quite convinced.
"I think there's something missing in your motivation. You've never performed in front of fans, right?" Finglass asked.
A surprise visit from Roberts' husband, Kevin, was just the audience she needed.
"My husband came in and it actually gave me more adrenaline and I thought, I can do this, I can do this," she said.
With her special guest there, Roberts was finally ready to show off what she'd learned. She performed the routine for her husband, the squad and the directors.
Roberts nailed the performance of a lifetime, and even brought tears to her husband's eyes.
"I am very proud of my wife. Today she's making memories that are going to last for a lifetime," Kevin Roberts said.
And for her, it was a lifelong dream finally fulfilled.
"Today was more than I could have imagined. They made it fun so I am so thrilled," Roberts said.
Click here to return to the "Good Morning America" Web site.