From Chicago to Connecticut, the same winter storm system that blasted Las Vegas with record-breaking snowfall Thursday lumbered through the Northeast Friday and left a trail of icy destruction across the Great Lakes region.
"You know I heard it was supposed to come fast, but I had no idea it was going to come this fast," said a woman in Hartford, Conn.
This morning, the storm system dumped more than 8 inches of snow on Detroit and 10 inches of snow and ice in Illinois, causing more than 300 flight cancellations at Chicago's O'Hare airport.
At the airport, Shelly Rzewuski, a mother of two from Lombard, Ill., planned to spend the holidays with her father in New Orleans but couldn't even find her flight on the departures board.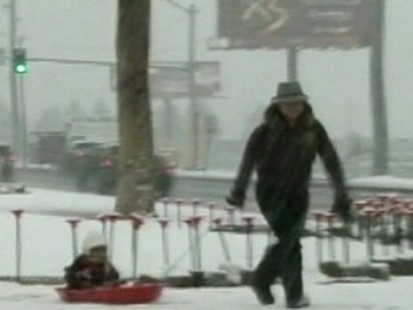 "I have to wait until I get up to the desk to even find out if we are going to take off," she said. "I'll be happy if we take off anytime today."
By Friday afternoon, the storm was driving into the heart of the Northeast, bringing snow, sleet and icy rain.
"We had cold air to the north, warm air to the south…and it's just one real whopper of a system coming through. A lot of places are going to end up with more than a foot," said Dr. Mel Goldstein, meteorologist at WTNH TV in Connecticut.
In preparation for the hazardous conditions, more than 650 flights were canceled at LaGuardia and John F. Kennedy airports in New York and Newark airport in New Jersey, according to a report by New York's WABC.
Today is one of the two busiest travel days of the holiday travel season, according to the Air Transport Association.
By Friday afternoon, conditions were improving in Chicago and Detroit, but delays had worsened at New York City airports, with arriving flights delayed between three and five and a half hours at all three major airports around 2 p.m.
"I really would just like to be home with my family for Christmas," one passenger said. "I hope it's not too white."
Get more information about flight delays.
All airlines are allowing travelers to rebook without a penalty.
"A winter storm warning means significant amounts of snow, sleet and ice are expected or occurring," stated a winter storm warning issued to areas across New York by the National Weather Service. "Strong winds are also possible. This will make travel very hazardous or impossible."
In Illinois, power companies are reporting 60,000 customers without service Friday. Nearly 180,000 outages were reported in Indiana, The Associated Press reported.
According to the weather service, 8 to 16 inches of snowfall is predicted to blanket areas of Massachusetts, and 5 to 10 inches are expected in New York.
In Iowa, the storm left ice accumulating on Interstate 80.
In Seattle, ice caused two charter buses to slide off the road and 50 people had to be evacuated. In other parts of the country, as the snow filled the roadways, the evening commute slowed to a crawl.
"This is one of those rare occasions where you just cannot keep up with it," said a Seattle police officer.
Vegas Hit With Record Snow -- What Are the Odds?
Flights resumed in Las Vegas today after the famous strip was covered and palm trees sagged with more than 3 inches of snow. It was the biggest December snowfall ever in Las Vegas, and the largest in any month in nearly 30 years.
According to the AP, the storm Wednesday and early Thursday also dumped snow or rain and disrupted travel in other areas of Nevada, parts of northern Arizona and much of southern California.
"It looks like Whoville -- all snowy, but with less joy and more extreme misery," Calen Weiss, 19, told the AP. Weiss was stuck Wednesday when snow in the Cajon Pass east of Los Angeles disrupted travel on Interstate 15.
Spokane, Wash., also saw its snowfall record shattered when the storm dropped 17 inches, blasting the previous 24-hour snowfall record of 13 inches, set in 1950, according to the AP.
Still reeling from the latest storm, the Pacific Northwest is already being pounded by another wintry mix, which dropped temperatures in Seattle 20 degrees below normal.
On the heels of this storm, another system will move across the country in the next 48 hours and another will take the same track, hitting the East Coast by Christmas.
ABC News' Lisa Stark and The Associated Press contributed to this report.