Holiday-Inspired Dish From Caesars Palace in Las Vegas
Pasta Dish is Quick and Tasty!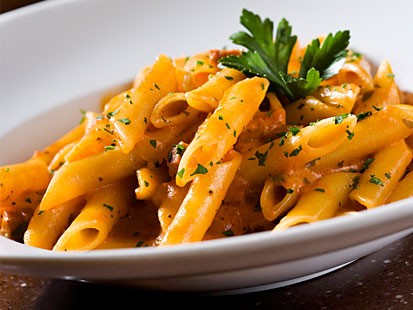 From the kitchen of Caesars Palace in Las Vegas
|
This recipe from Caesars Palace in Las Vegas is for Pennette Alla Vodka.
The preparation's simple, and the dish is delicious. Buon Appetito!
Ingredients
2 tablespoons unsalted butter
2 tablespoons olive oil
1/2 pound Italian cooked ham
1.3 quarts (700ml tomato sauce (or blended canned peeled Italian tomatoes)
1quart heavy cream reduced by half (½ quart)
¾ bottle Absolut vodka
1 1/2 white onions, finely chopped
3 tablespoons Italian parsley, finely chopped
Salt & Pepper to taste
2 pounds De Cecco penne liscie number 40
Cooking Directions
To cook the pasta:
Procedure to cook the pasta:
Add 6 quarts of salted water to a pasta cooker and place it over a medium-high flame.
Bring the water to a boil, the add the penne and lower the flame to medium.
Partially cover the pot. Let the pasta cook for about 10 minutes, stirring occasionally, the drain it and dress it with the cream sauce.
To prepare the sauce:
Dice the cooked ham and set it aside.
Place a heavy bottom sauté pan on medium-hi flame. Add the olive oil and butter. When the butter melts and becomes foamy, add the chopped onions. Sauté until crisp, but do not let it brown.
Add the diced ham, mix it in, lower the flame and let it sweat for about 15 minutes. Stir occasionally.
Add the tomato sauce and mix it in. Let it simmer for another 20 minutes, then add the parsley. Simmer for 3 minutes, add the reduced heavy cream and the vodka, mix it all well and let simmer for 20 minutes
Check the consistency, simmer for other 10 minutes if you need to, season and mix in the cooked penne, let it simmer for 2 minutes and serve it hot.
Other Recipes That You Might Like