Career counselors often advise bewildered job-seekers to explore their talents to find the perfect job. Now, tough economic times have workers looking for the same kind of creative solutions to make ends meet. Skilled dancers with a need for cash should look no further than their feet.
Dancing is a skill not everyone is blessed with, but certain times and traditions call for it, and that is when a dance instructor can come in and save the day. People looking to stay in shape, nervous brides and grooms or someone just hoping to increase their confidence on the dance floor are all potential students.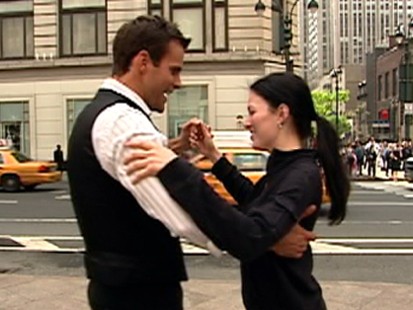 If you love dancing, a career as a dance instructor might allow you to boogie for bucks.
The Benefits of Being a Dance Instructor
Low Start up Costs Dance instructors can get started right away. No expensive equipment is needed to teach someone to dance. Rhythm and know-how are what dance students need.
Flexible Schedules For people who want to supplement their incomes but keep their day jobs, moonlighting as a dance instructor can be just the ticket. Students often schedule individual classes on nights and weekends to accommodate their own jobs, and if a group class is offered, the instructor has the liberty of picking the day and time.
A Sizable Salary For many, a quality dance class is worth the cash. The U.S. Bureau of Labor Statistics puts the average annual earnings for instructors in dance studios and schools at $34,460.
Maranda Folmer, a professional dance instructor at Manhattan DanceSport Studio claims the figure is even higher.
"Yearly, I'd say you can make anywhere between $35,000 and $65,000 in a year. That's the minimum" Folmer said.
How to Make It Happen
It can be fun to dance and let loose with friends, but not everyone can be a dance instructor. And just because you aren't Lord of the Dance doesn't mean you can't make a little extra money with the skills you have. Here is what you'll need to make it as a dance instructor.
Passion for Dance
Many people who sign up for dance classes are looking to master simple steps. The instructor's enthusiasm can be contagious for new dancers. A love of the craft will inspire your students to keep trying and, more importantly, to keep coming.
Coordination Teaching others how to dance is trickier than just being able to dance. To teach some dances, an instructor has to be able to do both the male and female parts, which basically means knowing how to do a dance in reverse.
A Business Plan The most important part of any new business is attracting customers. It is ideal to teach in a dance studio or school with an already established clientele. To instruct privately, a smart way to attract students is through online and newspaper ads, putting up fliers around the neighborhood, or use the best idea in most things business, the all-important skill of networking.
So if you're ready to make the leap to a career as a dance instructor, get out on the dance floor.
Consider it a business decision.