Home
>
GMA
>
Recipes Home
>
'The Real Paleo Diet Cookbook': Asian Beef and Vegetable Stir-Fry Recipe
'The Real Paleo Diet Cookbook': Asian Beef and Vegetable Stir-Fry Recipe
Flavorful, Colorful and Good for You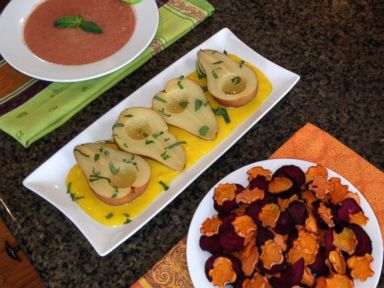 From the kitchen of Loren Cordain, PhD
|
Five-spice powder is a salt-free spice blend used widely in Chinese cooking. It consists of equal parts ground cinnamon, cloves, fennel seeds, star anise and Szechwan peppercorns.
Ingredients
One-and-a-half pounds boneless beef top sirloin steak or boneless beef round steak, cut 1 inch thick
One-and-a-half teaspoons five-spice powder
3 tablespoons refined coconut oil
1 small red onion, cut into thin wedges
1 small bunch asparagus (about 12 ounces), trimmed and cut into 3-inch pieces
1 and a half pounds julienne-cut orange and/or yellow carrots
4 cloves garlic, minced
1 teaspoon finely shredded orange peel
One-quarter cup fresh orange juice
One-quarter cup Beef Bone Broth (recipe on page 131 of the book) or no-salt-added beef broth
One-quarter cup white wine vinegar
One-quarter to one-half teaspoon crushed red pepper
8 cups coarsely shredded Napa cabbage
One-half cup unsalted slivered almonds or unsalted coarsely chopped cashews, toasted (see tip, page 57 of the book)
Cooking Directions
1. If desired, partially freeze beef for easier slicing (about 20 minutes). Cute beef into very thin slices. In a large bowl, toss together beef and five-spice powder. In a large wok or extra –large skillet, heat 1 tablespoon of the coconut oil over medium-high heat. Add half the beef; cook and stir for 3 to 5 minutes or until browned. Transfer beef to a bowl. Repeat with the remaining beef and another 1 tablespoon oil. Transfer beef to the bowl with the other cooked beef.
2. In the same wok, add the remaining 1 tablespoon oil. Add onion; cook and stir for 3 minutes. Add asparagus and carrots; cook and stir for 2 to 3 minutes or until vegetables are crisp-tender. Add garlic; cook and stir for 1 minute more.
3. For sauce, in a small bowl combine orange peel, orange juice, Beef Bone Broth, vinegar, and crushed red pepper. Add sauce and all the beef with juices in bowl to vegetables in wok. Cook and stir for 1 to 2 minutes or until heated through. Using a slotted spoon, transfer beef vegetables to a large bowl. Cover to keep warm.
4. Cook the sauce, uncovered, over medium heat for 2 minutes. Add cabbage; cook and stir for 1 to 2 minutes or until cabbage is just wilted. Divide cabbage and any cooking juices among four serving plates. Top evenly with beef mixture. Sprinkle with nuts.
Excerpted with permission from "The Real Paleo Diet Cookbook" by Lorain Cordain, PhD, Houghton Mifflin Harcourt Publishing Company. This recipe was styled by chef Karen Pickus for "Good Morning America."
Other Recipes That You Might Like