Home
>
GMA
>
Recipes Home
>
'The Real Paleo Diet Cookbook': Strawberry-Cantaloupe Soup With Lime and Mint Recipe
'The Real Paleo Diet Cookbook': Strawberry-Cantaloupe Soup With Lime and Mint Recipe
Cool and Tasty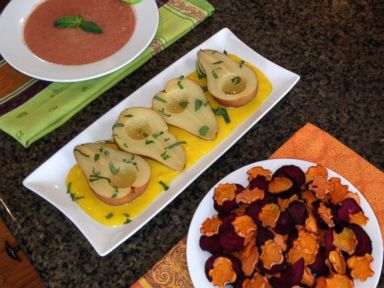 From the kitchen of Loren Cordain
|
Cooling fruit soups are popular in Eastern Europe and Scandinavian cuisines. Get the ripest fruit you can find for this mélange of strawberries, cantaloupe, lime, mint and ginger.
Ingredients
4 cups cubed ripe cantaloupe
One and one-half cups ripe strawberries, hulled
1 cup fresh orange juice
One-half cup dry white wine
2 tablespoons fresh lime juice
1 teaspoon finely chopped fresh ginger
2 tablespoons snipped fresh mint
Sliced strawberries and mint leaves (optional)
Cooking Directions
1. In a food processor or blender, combine cantaloupe, strawberries, orange juice, wine, lime juice and ginger. Process until smooth.
2. Pour into a large bowl or container. Cover and refrigerate for at least 4 hours or overnight.
3. To serve, stir snipped mint into soup. Divide soup among serving bowls. If desired, garnish with sliced strawberries and mint leaves.
Excerpted with permission from "The Real Paleo Diet Cookbook" by Lorain Cordain, PhD, Houghton Mifflin Harcourt Publishing Company. This recipe was styled by chef Karen Pickus for "Good Morning America."
Other Recipes That You Might Like