'GMA' Anchor Tailgate Challenge: Lara's Nittany Nachos
These Fully-Loaded Nachos Are Sure to Be a Game Day Hit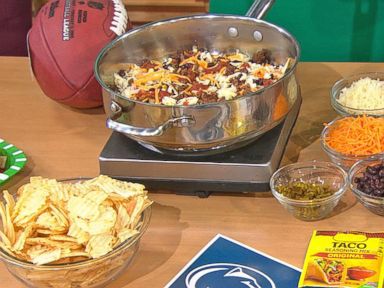 The "GMA" anchors go head to head with their best game-day recipes.
From the kitchen of Karen Pickus for Lara Spencer
|
Ingredients
1 pound ground beef
3/4 teaspoon salt
1/4 teaspoon ground black pepper
1/2 teaspoon dried oregano
1/2 teaspoon cumin
1/2 teaspoon. smoked paprika
1/4 teaspoon ground black pepper
1/4 teaspoon garlic powder
1/4 teaspoon onion powder
1 teaspoon chili powder
One 13-ounce bag restaurant-style tortilla chips
8 ounces shredded sharp cheddar
One 16-ounce jar medium salsa
One 15-ounce can black beans, drained
8 ounces shredded Monterey Jack cheese
1/4 cup chopped pickled jalapeno, optional
1/2 finely diced onion
1/2 cup sour cream
For the Guacamole
1 ripe Haas avocado
1 small clove garlic, minced, (1/2 teaspoon minced garlic)
Juice of 1/2 lime (2 tablespoons lime juice)
1/4 teaspoon cumin
1/4 teaspoon coriander
1/4 teaspoon salt
1/4 teaspoon dried oregano
Cooking Directions
In a cast iron skillet over medium high heat flatten the ground beef like a pancake and brown on one side. Add the spices for the ground beef and cook until rich brown color on both sides. Chop meat with a heavy grade metal spatula until meat is cooked through and crumbled. Set aside.
To make the guacamole, in a separate bowl combine all ingredients for the guacamole and mash with a potato masher.
In two (12 to 14-inch) skillets with tops spray the skillets with olive oil cooking spray layer both bottoms of the skillet with one-quarter of the bag of chips. Top with one-quarter of the beef, cheddar, Monterey Jack, salsa black beans, and pickled jalapeños if using. Repeat for second layer in each skillet. Cover and cook over medium heat until cheese is melted. Top with diced onion, sour cream and guacamole.
Serve right in frying pan.
This recipe was developed by Karen Pickus, chef/food stylist for "Good Morning America," Jan. 6, 2016.
Other Recipes That You Might Like