Chris Santos' Eggplant Pizzeta
Healthy and Tasty!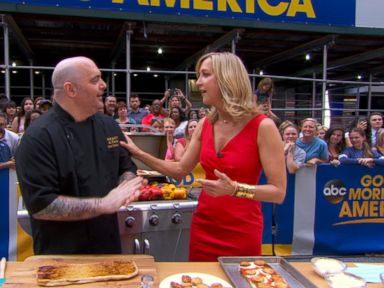 Chef and grillmaster Chris Santos shows you how to mix up your summer routine.
From the kitchen of Chris Santos
|
Chris Santos calls himself the "rock n' roll chef" and is known for his fun and flavorful take on food. Santos, the owner of The Stanton Social and Beauty & Essex in New York City, appeared on "Good Morning America" today with his latest dishes. Try this recipe in your own kitchen!
Ingredients
For the Tomato Oil
6 oz. Plum tomato (canned)
4 oz. Tomato Paste
8 oz. Extra Virgin Olive oil
1 oz. Blended oil
For the Pizza Sauce
28 oz. can San Marzano Tomatos
2 oz. Roasted Garlic
4 oz. Tomato Oil
For the Eggplant Breadcrumbs
1 lb. Panko Breadcrumbs
2.5 oz Grated Grana Padano
1 Tbsp Kosher salt
1 tsp Ground Black Pepper
For the Egg Wash
4 ea. Xl Eggs
1 oz. Milk
For the Eggplant
2 ea. Japanese Eggplant
For the Whipped Ricotta
1 lb. Fresh Ricotta
1/3 cup Heavy Cream
1.5 oz. Roasted Garlic
1.5 oz. extra virgin olive oil
For the Chili Oil
1 tsp Crushed chili flake
1 cup Blended Oil
½ tsp Cayenne pepper
4.5 oz. Pizza Dough
Cooking Directions
Method
For the Tomato Oil
Drain tomatoes through a large-holed China cap and crush with a whisk. In a large rondeau, heat blended oil until almost smoking. Add the drained crushed tomatoes and cook until dry, stirring frequently to avoid charring. Once dry lower the heat and add tomato paste. Whisk for 10 minutes and add olive oil. Whisk until it comes to a simmer and then turn off the heat. Let stand for 45 minutes, stirring occasionally to incorporate flavors. Strain through a large China cap layered with three coffee filters for approximately 2 hours.
For the Pizza Sauce
Strain tomatoes and reserve the liquid. Place strained tomatoes on cooling racks and place on a very hot grill until chard on one side. Scrape off cooling rack into a Bain Marie or stock pot. Add roasted garlic and reserved liquid from tomatoes and blend with large emersion blender. Add tomato oil slowly.
For the Eggplant Breadcrumbs
Grind breadcrumbs in Robot Coupe till cornmeal consistency - add all other ingredients and blend.
For the Egg Wash
Mix the eggs and milk until completely blended.
For the Japanese Eggplant
Slice eggplant at 2.5" on Japanese Mandoline. Lightly salt and rest for 1 hour. Pat dry, Dip in egg wash and then panko. Fry at 375 degrees till golden brown.
For the Whipped Ricotta
Whip ricotta in mixer, adding cream little by little, then add pureed roasted garlic and keep blending. Slowly add extra virgin olive oil.
For the Chili Oil
Put all the ingredients in a pot and heat on low flame for 30 minutes.
Pizza assembly
1 ea. Grilled Pizza dough
1 tbsp olive oil
1.5 oz. Pizza Sauce
5 oz. Burrata Cheese
Rub flatbread with olive oil. Spread pizza sauce on top of the flatbread, leave 1/4" space from edges. Place 1/2 oz pieces of Burrata evenly across pizza, five on each side.
Pick Up
1 assembled Pizza
10 ea. Fried eggplant slices
5 tsp Whipped ricotta
2 tbsp Grana Padano (grated on microplane)
10 pieces Micro Basil
1 tsp Chili Oil
Place assembled pizza in oven for approximately 4 minutes. Top each piece of burrata cheese with a piece of eggplant, leave in oven for additional minute. Cut evenly into strips of 5 horizontally, then down the enter, giving you 10 pieces. Top each piece of eggplant with the whipped ricotta cheese. Garnish with micro basil, chili oil and Grana Padana cheese.
Recipe courtesy of Chris Santos.
Food styling courtesy of Karen Pickus.
Other Recipes That You Might Like