Emmitt Smith's Smoked Baby Back Ribs
Emmitt Smith Grills Up Some Barbecue Delights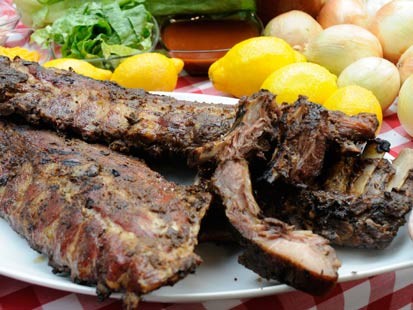 From the kitchen of Emmitt Smith
|
Former NFL superstar Emmitt Smith dropped by "Good Morning America" to share some of his best bar-b-q dishes.
"I have not beeen so bad in the kitchen. Grilling is my thing now," Emmitt said.
So fire up the grill before summer ends and let Emmitt take your taste buds into the endzone.
Click here to learn more about Emmitt's Great Pork Recipe Playoff.
Ingredients
2 racks baby back pork ribs, membrane attached
2 tablespoons garlic salt
1 tablespoon ground black pepper
1 tablespoon onion powder
1 tablespoon liquid smoke
1/2 -1 teaspoon cayenne pepper
4 cups wood chips
Cooking Directions
Mix together the garlic salt, ground black pepper, onion powder, liquid smoke and cayenne pepper. Rub spice mixture over both sides of ribs. Wrap ribs in plastic wrap and refrigerate overnight.
One hour before grilling soak 4 cups wood chips in enough water to cover. Preheat gas grill to high. Drain wood chips. Place chips in metal smoker box, disposable drip pan or wrap in heavy-duty foil that has holes poked in the top for steam to escape. Place box, drip pan or foil packet directly over lava rocks. When chips begin to smoke, reduce heat to 275 degrees F. Place ribs, bone side down on grill rack. Turn off any burners directly below the ribs. Cover and grill over indirect heat for 1 1/2 - 2 hours or until meat is very tender. Add more wood chips as needed.
Transfer ribs to cutting board. Loosely cover with foil; let rest for 10 minutes before serving.
Add extra cayenne pepper to this rub if you like your ribs smokin' hot. Once the ribs are on the grill, lift lid once or twice and rearrange the ribs if some areas are becoming too dark.
For charcoal grill: Drain wood chips. Prepare a medium fire in covered charcoal grill. Bank coals on both sides of grill. Place drip pan in center. Sprinkle 2 cups of the wood chips over the coals. When chips begin to smoke, place ribs, bone side down, in center of grill over drip pan. Cover and grill over indirect low heat for 2 hours or until meat is very tender, adding more wood chips every 20 minutes and, if necessary, a few briquettes to maintain an even grill temperature of about 275-300 degrees F. Continue as directed above.
Other Recipes That You Might Like