Jeanne Besser's Flank Steak Burrito Bowls with Corn Salsa
Homemade and Packed With Flavor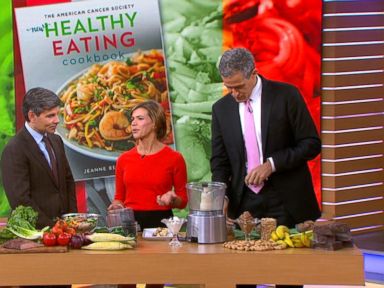 ABC News chief health and medical editor Dr. Richard Besser and his wife, Jeanne, share recipes and healthy eating tips from her book, "The American Cancer Society's New Healthy Eating Cookbook."
From the kitchen of Jeanne Besser
|
Jeanne Besser, the wife of ABC News Chief Health and Medical Editor Dr. Rich Besser, is out with a new book, "The American Cancer Society New Healthy Eating Cookbook," which offers ways to understand what constitutes a healthy diet, how to use portion control, and how to eat healthy meals both at home and dining out.
Why go to a fast food place for a burrito bowl when you can make a healthier one at home for less? Brown rice mixed with fresh cilantro forms the base for grilled flank steak, black beans and a tangy corn salsa. Chopped romaine lettuce, avocado, grated cheese and a lime wedge complete this "one bowl" meal.
Ingredients
1 cup brown rice
1 pound flank, hanger, or skirt steak, trimmed of excess fat
2 tablespoons "Mexican" or "Southwest" seasoning blend
Salt and freshly ground black pepper
2 cups corn
2 tablespoons finely chopped poblano or bell pepper
2 tablespoons finely chopped red onion
1 tablespoon finely chopped jalapeño pepper
1 tomato, seeded and chopped
1 lime, cut into six wedges, divided use
1 teaspoon extra-virgin olive oil
1/2 cup chopped fresh cilantro
1 (15-ounce) can black beans, rinsed, drained and heated
1 avocado, cut into 1/2-inch pieces
1 cup chopped romaine lettuce
1/3 cup shredded Cheddar or Mexican-blend cheese
Salsa, optional
Cooking Directions
Prepare the rice according to the package directions.
Preheat a grill pan over medium-high heat for 1 minute and lightly coat with nonstick cooking spray.
Coat the steak with the seasoning blend. Season with salt and pepper. Cook the steak for 4 to 6 minutes per side for medium-rare.
Let rest for 5 minutes before slicing on the diagonal, against the grain, into thin strips. Cut the strips into bite-sized pieces.
For the corn salsa: Meanwhile, in a bowl, combine the corn, poblano, onion, jalapeño and tomato. Squeeze two pieces of lime over the mixture, drizzle with the oil, and stir to combine. Season with salt and pepper.
Add the cilantro to the rice. Divide the rice between four bowls. Top each bowl with meat, corn salad, black beans and a wedge of lime.
Sprinkle with the avocado, lettuce and cheese. Serve with salsa, if desired.
Per Serving: 590 calories, 160 calories from fat, 18 grams of fat, 70 milligrams of cholesterol, 72 grams of carbohydrates, 6 grams of sugarsm 38 grams of protein.
Tip: This dish can also be made with chicken, pork tenderloin, or tofu.
Recipe courtesy: The American Cancer Society New Healthy Eating Cookbook.
Copyright ©2016 American Cancer Society.
Other Recipes That You Might Like