Guy Fieri's S'more Pizza, Not Just For Kids
Recipe Courtesy of Guy Fieri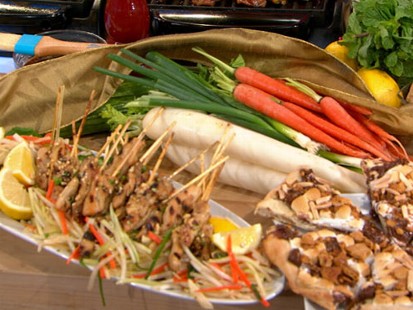 Chef, author of "Guy Fieri Food" prepares perfect party foods from his book.
From the kitchen of Guy Fieri
|
Ingredients
2 store bought pizza dough
1/2 cup bench flour
1/4 cup corn meal
3 cups mini marshmallows
2 bars dark chocolate
1 sleeve graham crackers, crushed
1/4 cup slivered almonds
3 tablespoons unsalted butter
1/2 teaspoon chili powder
1/4 teaspoon cayenne pepper
1/4 teaspoon salt
Cooking Directions
Preheat oven or grill to 400 degrees Fahrenheit.
Form pizza dough into 12" to 14" rounds, 1/4 inch thick. Bake in oven on pizza stone for 6-8 minutes or until just beginning to brown.
Grill method: Use indirect method: Form dough round, slide onto hot grill, let cook for 3 minutes, turn and add toppings, close grill lid to melt, serve immediately
While pizza crust is cooking, toast slivered in a saute pan over medium high heat.
Remove and in same pan, melt butter.
When butter is melted, add in graham cracker crumbs, chili powder, cayenne and salt. Cook for 2-3 minutes.
Remove from heat and set aside.
Remove from oven and top with half of the marshmallows, randomly place one bar of chocolate over marshmallows, return to oven, 3-5 minutes of until marshmallows are puffed and lightly browned.
Remove from oven and sprinkle with the graham cracker mixture and top with the toasted slivered almonds. Let rest 3-4 minutes, slice and serve.
Repeat for second pizza.
This recipe was styled by chef Karen Pickus for Good Morning America.
Recipe courtesy Guy Fieri Food: Cookin' it Livin' it Lovin' it.
Other Recipes That You Might Like